Preparation Time: 10 minutes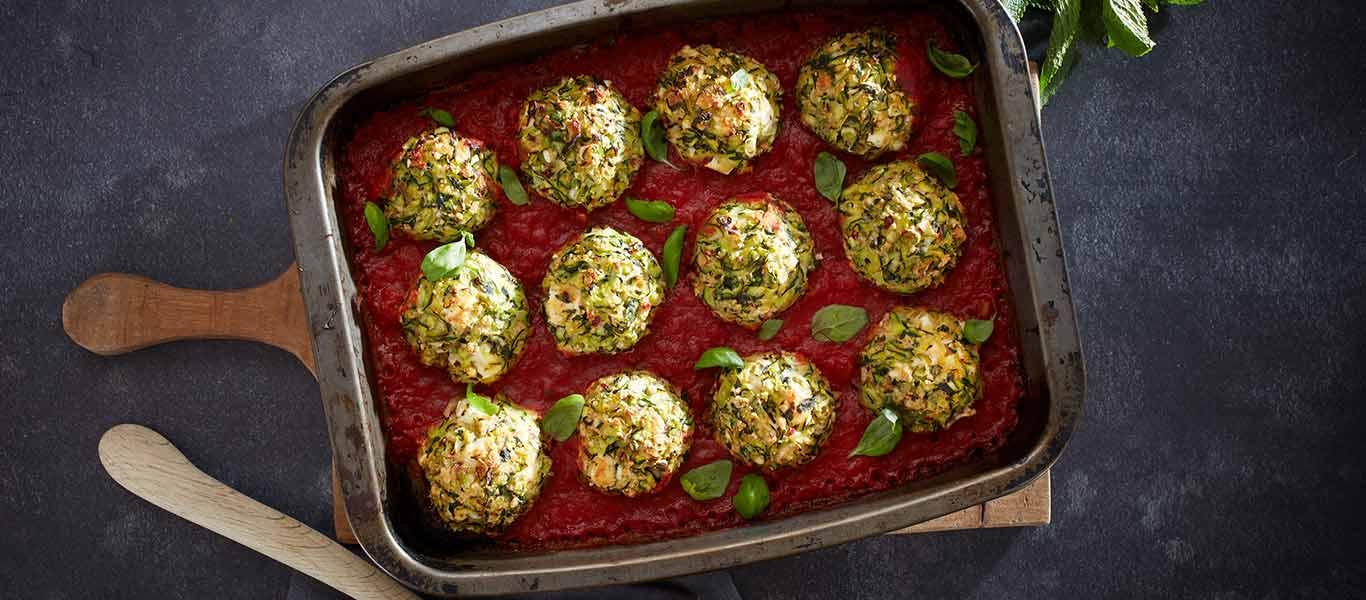 Ingredients
3 large/4 medium courgettes, coarsely grated
1 tsp sea salt
1 bunch spring onions, finely chopped
1 egg
200g feta, roughly chopped
75g fresh breadcrumbs
¼ - ½ tsp crushed chillies
1 lemon, zested
3 tbsp mint leaves, picked and roughly chopped
1 x 500g Dolmio Meatball Tomato and Basil sauce
1 handful basil leaves, picked
Nutrition
Calories column
Fat column
Saturates column
Sugars column
Salt column

Calories
312

per serving

16%

%GDA

Fat
13g

per serving

19%

%GDA

Saturates
7g

per serving

35%

%GDA

Sugars
14g

per serving

20%

%GDA

Salt
2.70g

per serving

45%

%GDA
Method
Preheat the oven to 200°C, fan 180°C, gas mark 6.

Grate the courgettes into a large bowl, add the salt and mix well.

Set aside for 15 minutes until the salt has drawn the moisture out of the courgettes. Tip them into a clean tea towel and twist to squeeze all the liquid out. Discard the liquid and wipe out the bowl.

Tip the dry courgette back into the bowl, add the spring onions, feta, breadcrumbs, crushed chillies, lemon zest, mint leaves, egg and plenty of black pepper.

Mix together really well then divide in half, half again and then into 3 so that you have 12 large balls.

Tip the balls into a large baking dish and place in the oven to roast for 20 minutes, then add the tomato sauce and return to the oven for another 10 minutes until the balls are hot through and then sauce bubbling.

Scatter with the basil leaves and serve straightaway with crusty bread or pasta.