Preparation Time: 10 minutes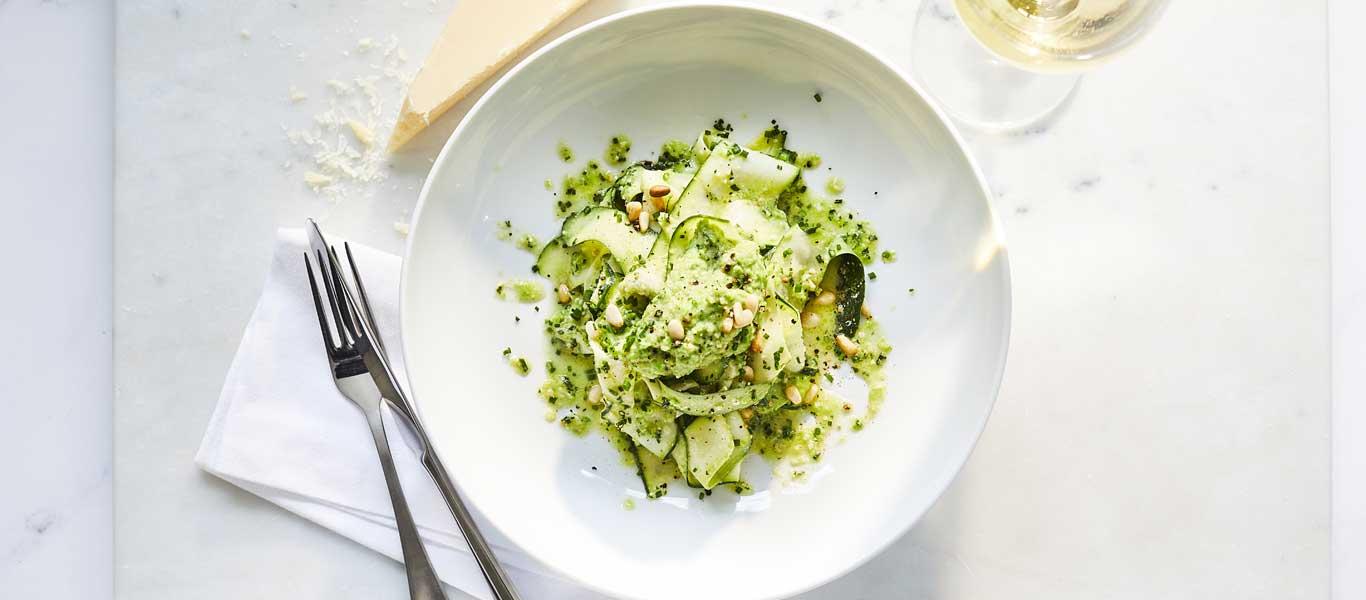 Ingredients
2 tbsp white wine vinegar
6 tbsp olive oil
1 lemon, zested and juiced
Sea salt and freshly ground black pepper
3 tbsp chives, finely chopped
500g courgettes
100g frozen petit pois
2 tbsp extra virgin olive oil
50g parmesan, roughly chopped
50g pine nuts
3 tbsp mint leaves, roughly chopped
1 garlic clove, roughly chopped
Nutrition
Calories column
Fat column
Saturates column
Sugars column
Salt column

Calories
387

per serving

19%

%GDA

Fat
35g

per serving

50%

%GDA

Saturates
7g

per serving

33%

%GDA

Sugars
4g

per serving

4%

%GDA

Salt
0.50g

per serving

8%

%GDA
Method
Zest and juice the lemon into a large bowl, add the vinegar, olive oil, salt and pepper and ¾ of the chives. Whisk well until just thickened then set aside.

Peel the courgettes with a speedy peeler into thin ribbons, leaving a core of the seedy centre.

Drop the courgette ribbons into the dressing and toss around until totally coated in the dressing. Set aside while you prepare the rest.

Roughly chop the remaining centres of the courgettes – you want about 200g.

Bring a pan of salted water to the boil, add the chopped courgette and simmer for 2-3 minutes until just tender.

Add the peas and mint and return to the boil.

Drain really well, making sure you get rid of all the excess water then tip into a food processor with the extra virgin olive oil, parmesan, 30g of the pine nuts, the mint leaves and garlic clove.

Blitz to a smooth puree then check the seasoning.

Spoon a little pesto into the marinating courgettes and toss to combine then divide between serving plates. Top with a dollop of pesto, the remaining pine nuts and chives and spoon any dressing over the top.