Preparation Time: 20 minutes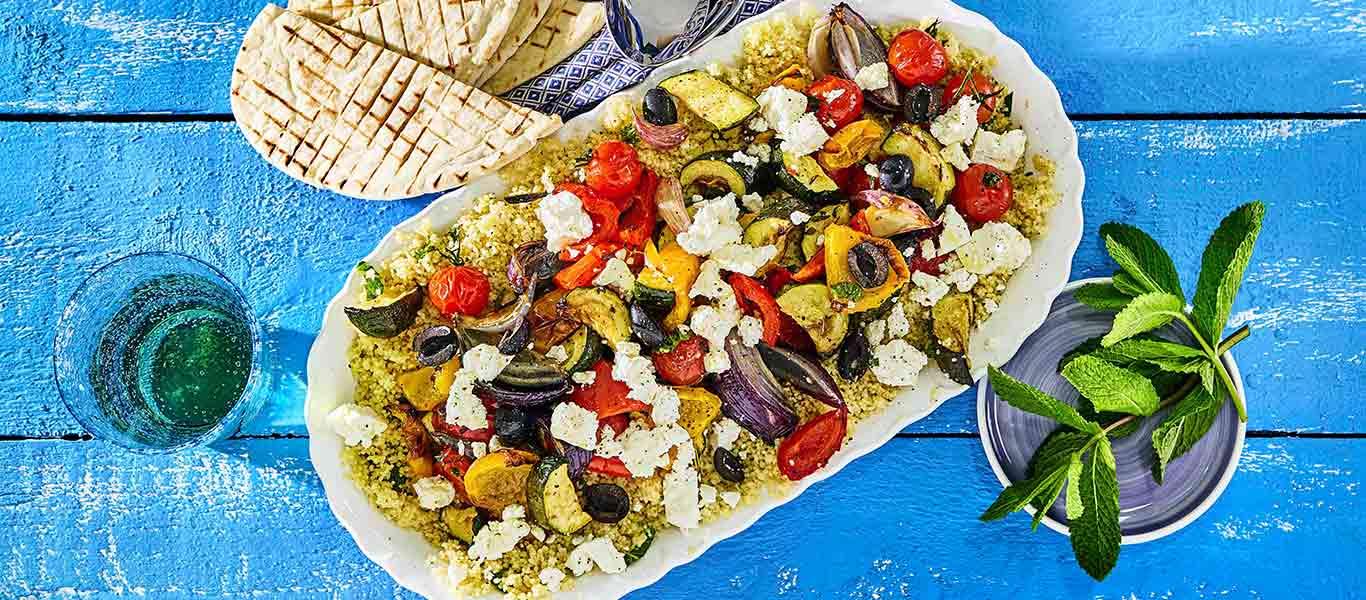 Ingredients
2 peppers either red or a mix of red and yellow, de-seeded and chopped
255g courgettes, halved lengthways and cut into chunks
1 small red onion, peeled and cut into wedges
4 garlic cloves, outer skins removed
small bunch thyme sprigs
olive oil, to drizzle
200g couscous
250ml hot vegetable stock
7 cherry tomatoes
small bunch mint, finely chopped
6 black olives, pitted and halved
100g feta cheese, crumbled
freshly ground black pepper
griddled or toasted pitta breads, to serve
Method
Preheat the oven to 200°C/Fan180°C/Gas Mark 6. Place the peppers, courgettes, onion, garlic and thyme in a roasting tin. Drizzle with olive oil and roast for 45 minutes.

Meanwhile, place the couscous in a large bowl and pour over the vegetable stock. Cover and set aside.

Add the cherry tomatoes to the roasted vegetables and roast for a further 15 minutes.

Loosen the couscous using a fork and your fingers. Drizzle with olive oil and stir through the mint. Place the couscous on a serving plate. Top with the roasted vegetables. Sprinkle over the olives and feta. Drizzle with olive oil and season. Toss to combine just before serving. Serve with griddled or toasted pitta breads.