Preparation Time: 15 minutes
Cooking Time: 1, 1/4 hours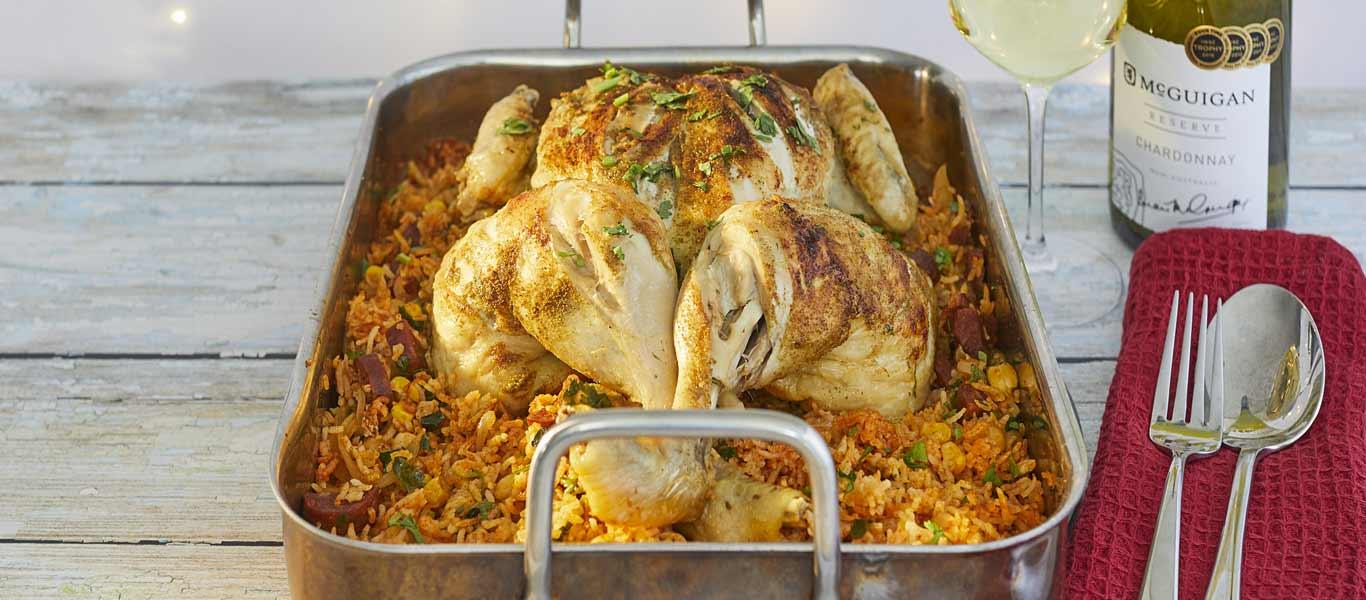 Ingredients
1 onion, sliced
2 garlic cloves, finely grated or crushed
1 tbsp smoked paprika
2 tsp ground cumin
200g chorizo, roughly chopped
1 x 198g tin sweetcorn in water, drained
300g basmati rice, washed and drained
1 x 400g tin chickpeas, drained and rinsed
1 chicken stock cube or pot
1 large chicken
Sea salt and freshly ground black pepper
2 lime, zested and juiced
3 tbsp coriander, roughly chopped
Optional dip to serve -
125g 0% Greek Yoghurt
2 tbsp chilli sauce
Nutrition
Calories column
Fat column
Saturates column
Sugars column
Salt column

Calories
658

per serving

33%

%GDA

Fat
20g

per serving

29%

%GDA

Saturates
6g

per serving

60%

%GDA

Sugars
5g

per serving

6%

%GDA

Salt
2.20g

per serving

37%

%GDA
Method
Preheat the oven to 200°C, fan 180°C, gas mark 6.

Tip the onions, garlic, smoked paprika and half the cumin into a large rectangular oven dish and mix together.

Add the chorizo, sweetcorn, rice and chick peas and the stock cube. Add 600ml cold water and stir really well until evenly mixed then set aside.

Place the chicken, breast side down, onto a chopping board. Using sharp heavy duty scissors, cut through the flesh and bone along both sides of the backbone about 5cm/2 " wide. Cut from the tail end to the head end then lift out the backbone. Place the chicken flesh side down onto the board and press as flat as possible.

Cut slashes into the breast and legs then place skin side up onto the rice filled oven dish. Season with salt, black pepper and the last of the cumin then cover the whole dish with silver foil.

Place in the oven for 1 hour until the chicken is cooked through and the rice tender.

To check that the chicken is cooked, insert a knife or skewer into the fattest part of the thigh. If the juices run clear, the chicken is cooked through. If any blood comes out, return it to the oven for another 5–10 minutes, then check again.

Preheat the grill and lift the chicken off of the rice and onto a grill tray. Place the chicken under the grill for 5 minutes until crispy and golden.

While the chicken is under the grill, scatter ¾ of the coriander over the rice and zest and juice the limes over the top then mix well together.

Serve the chicken and rice together with the last of the coriander over the chicken.

Optional – mix the chilli sauce and yoghurt together and serve alongside.