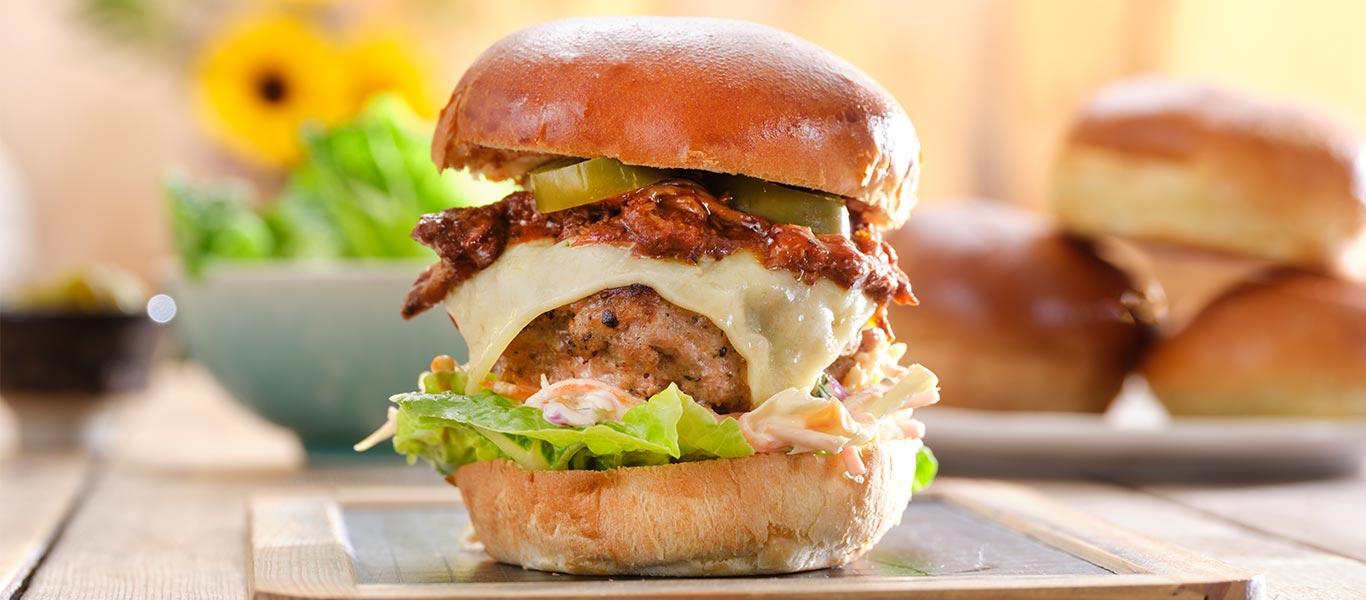 Ingredients
6 good quality pork sausages
1 tsp thyme leaves, finely chopped
200g pulled pork in BBQ sauce
4 slices mature cheddar cheese
4 burger buns, split
1 head little gem lettuce, leaves separated
200g coleslaw
50g sliced jalapeno peppers
Nutrition
Calories column
Fat column
Saturates column
Sugars column
Salt column

Calories
860

per serving

43%

%GDA

Fat
51g

per serving

73%

%GDA

Saturates
18g

per serving

90%

%GDA

Sugars
25g

per serving

28%

%GDA

Salt
4.80g

per serving

80%

%GDA
Method
Preheat the oven to 200°C, fan 180°C, gas mark 6.

Split the skin of the sausages and tip the meat into a bowl. Add the thyme leaves and mix until combined, then divide into 4 and form into patties.

Lay onto a baking tray and place in the oven to bake for 15 minutes until hot through and golden brown.

Meanwhile, heat the pulled pork according to packet instructions.

Place the cheese over the burgers and leave to melt slightly.

Toast the buns if desired, then lay the bottom half onto serving plates.

Divide the lettuce leaves between the bun halves, then layer up the coleslaw, burger and pulled pork.

Top with the jalapeno peppers and burger top and serve straightaway.