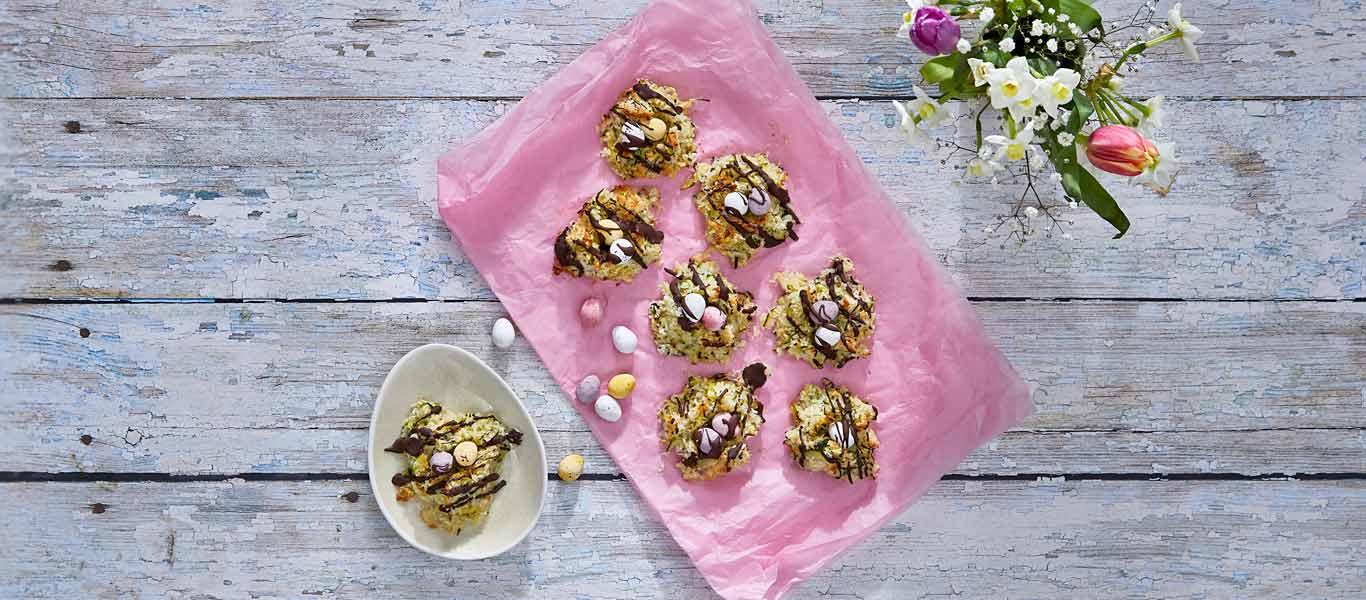 Ingredients
2 egg whites
100g caster sugar
125g desiccated coconut
125g courgette, scrubbed and finely grated
1 lime, zested and juiced
50g 70% dark chocolate, roughly chopped
36 chocolate mini eggs
Nutrition
Calories column
Fat column
Saturates column
Sugars column
Salt column

Calories
173

per serving

9%

%GDA

Fat
10g

per serving

14%

%GDA

Saturates
8g

per serving

40%

%GDA

Sugars
20g

per serving

22%

%GDA

Salt
0.01g

per serving

1%

%GDA
Method
Preheat the oven to 180°C/fan 160°C/gas mark 4. Grease and line a baking tray.

Tip the egg whites into a bowl and whisk until foamy. 3. Add the sugar, coconut, courgette, lime zest and juice and mix until it forms a sticky mixture.

Spoon the mixture into 12 heaps on the baking tray with a little gap in between. Make a little well in the middle of each one.

Place in the oven to bake for 12-15 minutes until set and light golden brown.

Meanwhile, tip the chocolate and either heat in a microwave for 30 second bursts until melted, or into a bowl set over a pan of water. Leave for 2-3 minutes until the chocolate has melted then remove from the heat and stir until smooth.

Drizzle the chocolate over the "nests" then set 3 mini eggs in each one and serve when cold.