Preparation Time: 20 minutes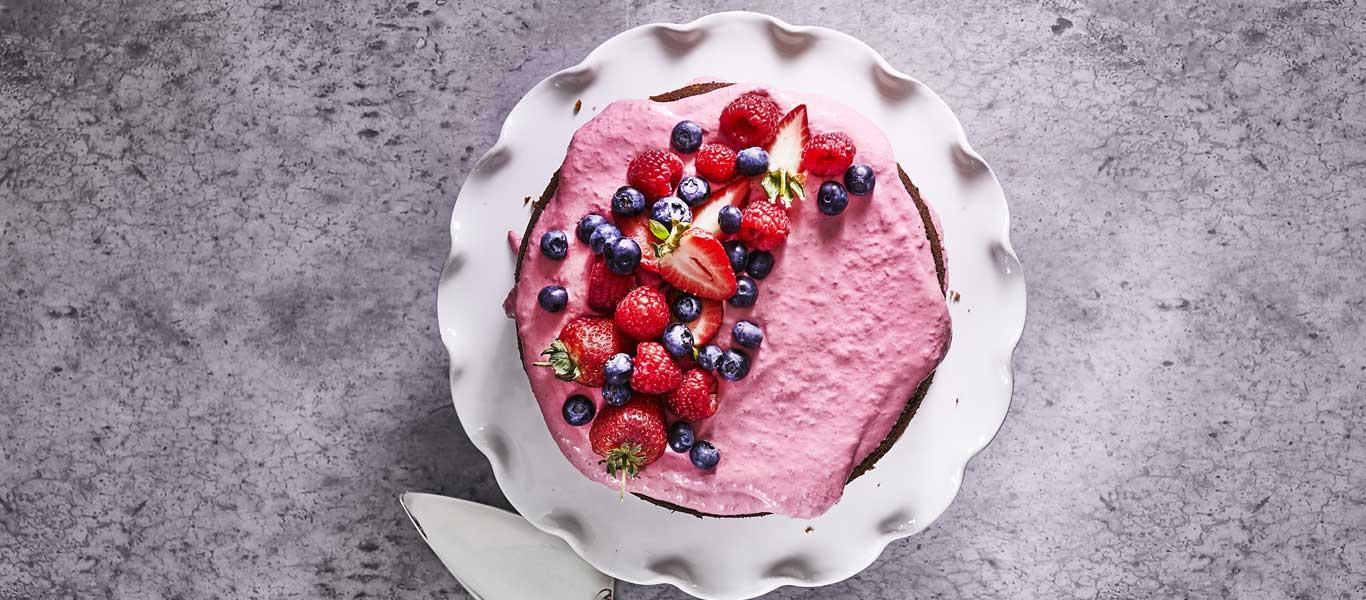 Ingredients
Ingredients for cake
150g pistachios
225g butter, softened
225g caster sugar
90ml elderflower cordial
4 eggs
75g 0% fat natural yoghurt
100g self-raising flour
2 tsp baking powder
Ingredients for filling
200ml double cream
3 tbsp elderflower cordial
200g frozen raspberries, defrosted
200g mixed strawberries, raspberries and blueberries
Nutrition
Calories column
Fat column
Saturates column
Sugars column
Salt column

Calories
345

per serving

17%

%GDA

Fat
24g

per serving

34%

%GDA

Saturates
12g

per serving

60%

%GDA

Sugars
21g

per serving

23%

%GDA

Salt
0.50g

per serving

8%

%GDA
Method
Preheat the oven to 180°C, fan 160°C, gas mark 4. Grease and line 2 x 23cm loose bottomed cake tins.

Tip the pistachios into a food processor and blitz until really fine – you want a crumb texture.

Put the butter and sugar into a large bowl and beat until lightened and fluffy, then gently beat in the eggs one at a time.

Beat in the flour and baking powder, then the elderflower cordial and mix until combined.

Stir in the natural yoghurt and then the blitzed pistachios and mix until totally smooth then divide the batter between the cake tins. Place into the oven to bake for 25 minutes until golden brown and just firm to touch.

Remove and allow to cool to room temperature before decanting and cooling totally.

While the cakes cool, make the filling. Pour the cream and elderflower cordial into a bowl and whisk until soft peaks form.

Add the defrosted raspberries and any juices to the cream and whisk again, breaking up the berries, until the cream is just spreadable.

Place one of the cooled cakes onto a serving plate and top with half the raspberry cream and a third of the berries. Lay the second cake on top and spread the remaining cream over the top. Garnish with the remaining berries over the top of the cake.