Preparation Time: 15 minutes
Cooking Time: 4-6 hours, or overnight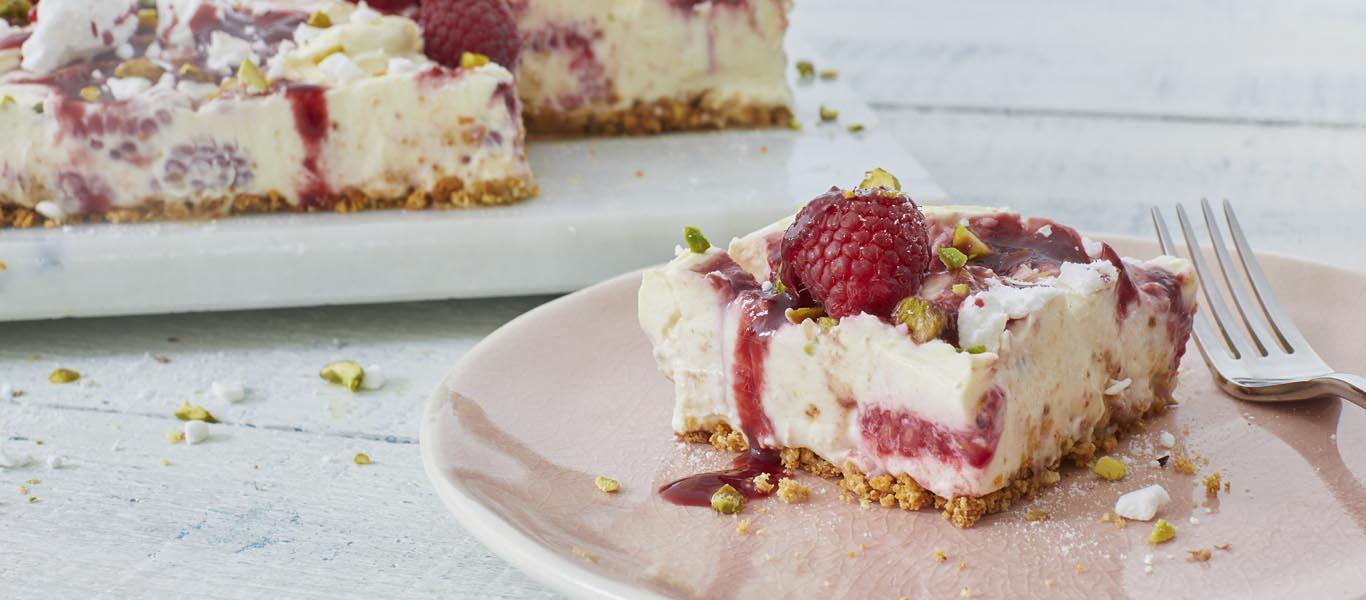 Ingredients
200g amaretti biscuits
75g butter, melted
750g low fat cream cheese
125g honey
1 tbsp vanilla extract
600ml double cream
300g raspberries
25g small meringue shells/large pieces of meringue
50ml raspberry sauce/puree
25g roughly chopped pistachios
Nutrition
Calories column
Fat column
Saturates column
Sugars column
Salt column

Calories
369

per serving

18%

%GDA

Fat
33g

per serving

47%

%GDA

Saturates
18g

per serving

90%

%GDA

Sugars
18g

per serving

20%

%GDA

Salt
0.50g

per serving

8%

%GDA
Method
Grease and line the base and sides of a 25cm x 20cm deep sided rectangular baking tin with parchment paper, making sure you leave plenty of the paper sticking out at either end so that you can lift the cheesecake out when it's finished.

Tip the amaretti biscuits into a medium bag, seal pushing the air out and bash with a rolling pin until fine crumbs are formed. Tip into a bowl along with the melted butter and mix until the crumbs are totally coated in butter. Tip into the lined baking tray and press down evenly to cover the bottom of the tray – it should be about 5mm thick.

Place into the freezer to chill while you prepare the topping.

Spoon the cream cheese, honey, vanilla extract and 450ml of the double cream into a large bowl and whisk until totally combined, smooth and quite firm.

Gently fold in 200g of the raspberries.

Spoon the mixture onto the chilled biscuit base, spreading it evenly to the edges, making sure that the top is smooth. Place the tray to the fridge for at least 4 hours, but preferably overnight, to set.

When the cheesecake has set, carefully lift it out of the tray, tipping the tray up one side so that the cheesecake slides out onto a chopping board.

Pour the remaining double cream into a separate bowl and whisk until soft peaks are formed – the cream will hold it's shape when you lift the whisk out.

Spoon the cream in dollops over the top of the cheesecake, followed by the meringue, raspberry sauce and remaining raspberries. Finish by scattering the pistachios over the top and a few sprigs of mint.

Serve straightaway – cut into rectangles.

You can return this to the fridge until needed, but the meringues will gradually lose their crispness.