Desserts Father's Day Cake - Devil's Food Coffee Cake
---
Preparation Time: 20 minutes
Cooking Time: 25 minutes, plus 30 minutes cooling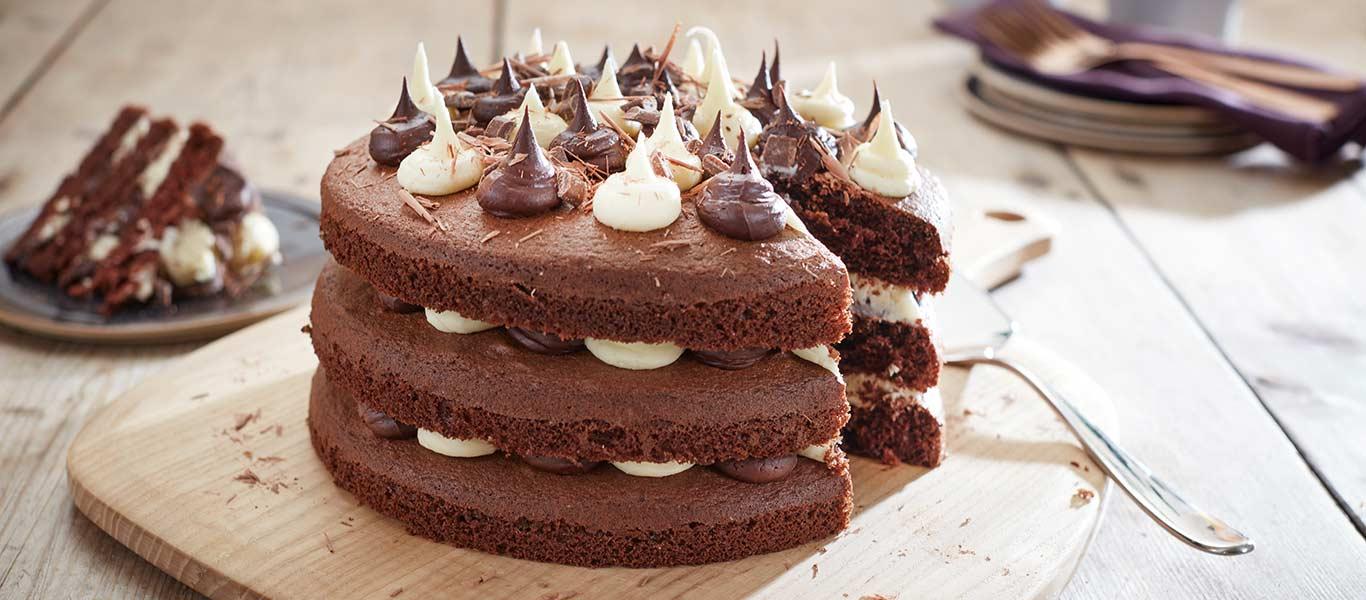 Ingredients
1 x 425g Betty Crocker devil's food cake mix
3 medium eggs
230ml semi skimmed milk
120ml vegetable oil
1 x 400g Betty Crocker Buttercream vanilla icing
1 x 400g Betty Crocker chocolate icing
15g milk chocolate chips
10g dark chocolate, peeled into shavings with a speedy peeler
1 tbsp hundreds and thousands (optional)
Nutrition
Calories column
Fat column
Saturates column
Sugars column
Salt column

Calories
402

per serving

20%

%GDA

Fat
18g

per serving

26%

%GDA

Saturates
7g

per serving

35%

%GDA

Sugars
50g

per serving

56%

%GDA

Salt
0.90g

per serving

15%

%GDA
Method
1. Preheat the oven to 180°C, fan 160°, gas mark 4. Grease and line 3 x 20cm cake tins.
2. Tip the cake mix into a large bowl, add the eggs, milk and vegetable oil.
3. Whisk for 2-3 minutes until totally smooth.
4. Divide evenly between the cake tins and place in the oven to bake for 15-18 minutes until golden brown and risen. To check the cake is baked, press gently in the centre of the cake and it should spring back, or insert a skewer and it should come out cleanly.
5. Remove and allow to cool for 10 minutes before removing from the tin. Transfer to a cake rack to cool totally.
6. Meanwhile, tip the buttercream vanilla icing into a piping bag, and the chocolate icing into a separate piping bag.
7. Layer one cake onto a cake stand and pipe blobs of of icing all over the top, alternating chocolate and vanilla, using about 1/3 of the icing. Layer a second cake on top with another layer of blobs. Repeat with the last layer of sponge and piped blobs.
8. Top with the chocolate chips, shavings and if using, finally a scattering of hundreds and thousands.
9. Cut into wedges to serve.