Lunch/Dinner Garlic Roasted Mushrooms with Sweet Jacket Potatoes
---
Preparation Time: 10 minutes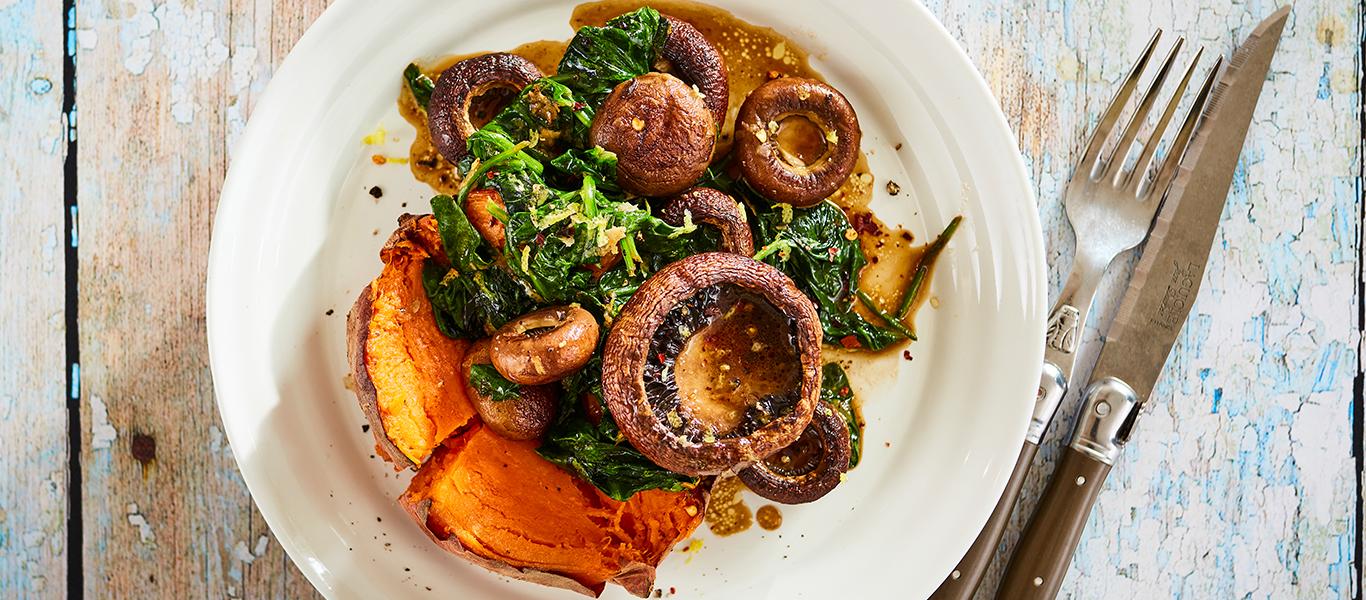 Ingredients
2 medium sweet potatoes, scrubbed and pricked
400g large chestnut mushrooms
100g butter, roughly chopped
2 tbsp olive oil
½ tsp crushed chilli flakes
Sea salt and freshly ground black pepper
160g baby spinach leaves
2 garlic cloves, finely grated
1 lemon, zested
Method
• Preheat the oven to 200°C/ fan 180°C/ gas mark 6.

Lay the sweet potatoes onto a small roasting tray and place in the oven for 30-40 minutes until tender.

Meanwhile, lay the chestnut mushrooms stalk side up, onto a larger baking tray and scatter the butter, olive oil and chilli flakes over the top.

Season with salt and black pepper, then when the potatoes have had 10-20 minutes, add the mushrooms to the oven and roast for 20 minutes until tender.

Scatter the spinach over the top then add the garlic and lemon zest and return to the oven for a few minutes until the spinach has just wilted.

Cut the potatoes in half lengthways then widthways and place onto the serving plates.

Stir the spinach through the mushrooms then pile onto the potatoes and spoon any garlicy butter juices over the top.