Desserts Ginger Shortbread Fingers with Dark Chocolate
---
Preparation Time: 10 minutes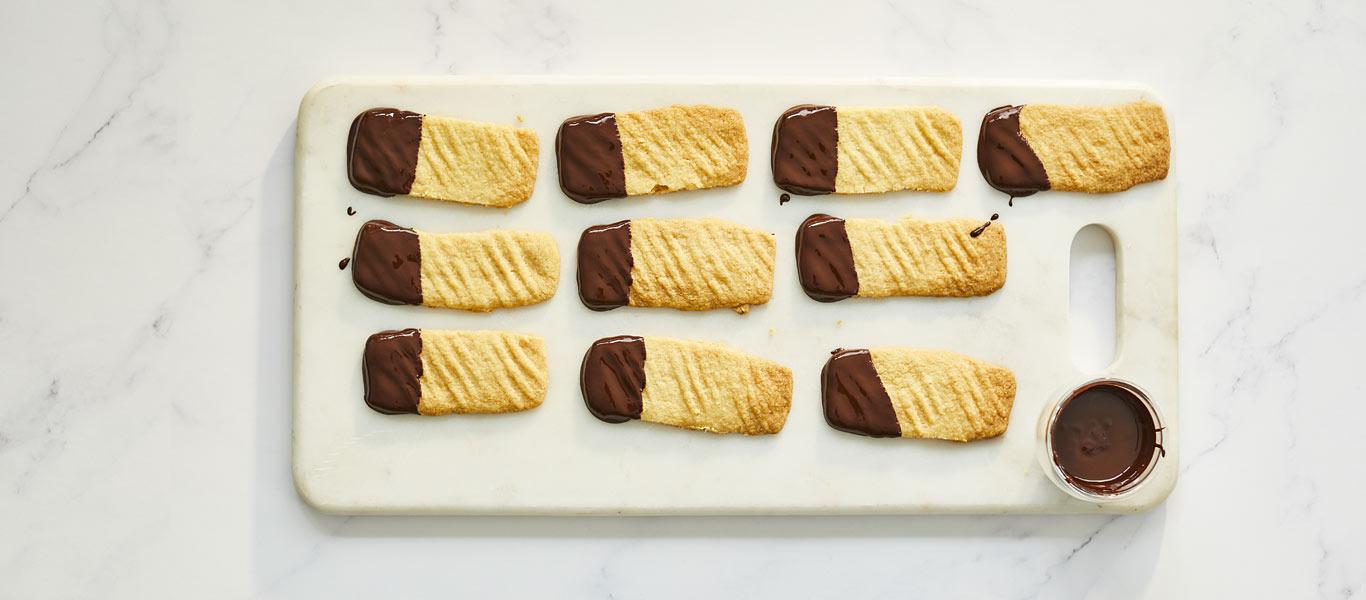 Ingredients
125g butter, softened
60g caster sugar
175g plain flour
2 tsp ground ginger
80g dark chocolate, roughly chopped
Nutrition
Calories column
Fat column
Saturates column
Sugars column
Salt column

Calories
94

per serving

4%

%GDA

Fat
5g

per serving

7%

%GDA

Saturates
3g

per serving

15%

%GDA

Sugars
5g

per serving

6%

%GDA

Salt
0.10g

per serving

2%

%GDA
Method
Preheat the oven to 190°C, fan 170°C, gas mark 5.

Tip the butter and sugar into a large bowl and beat together until really light and fluffy.

Add the flour and ground ginger and stir to combine – you want it to only just come together.

Tip onto a sheet of parchment paper, and draw into a soft dough, then top with a second sheet of parchment paper and roll flat using a rolling pin. You want it to be about 5mm thick.

Cut the dough into rectangles – start by cutting the dough in half vertically, then each half in half again vertically. Then cut horizontally into 6 – you'll end up with 24 pieces.

Lift up carefully and place onto a non-stick baking sheet about 1cm apart – they will spread slightly. Using the back of a fork, make little indents down the length of each shortbread.

Place in the oven to bake for 12 minutes until light golden brown and just firm to the tough – they will firm up properly when as they cool.

Meanwhile, place the chocolate into a heatproof bowl set over a pan of simmering water. Heat until just melted, then remove and stir until smooth.

Dunk the shortbreads into the chocolate, covering about 1/3 of each shortbread. Return to the baking sheet to cool totally.