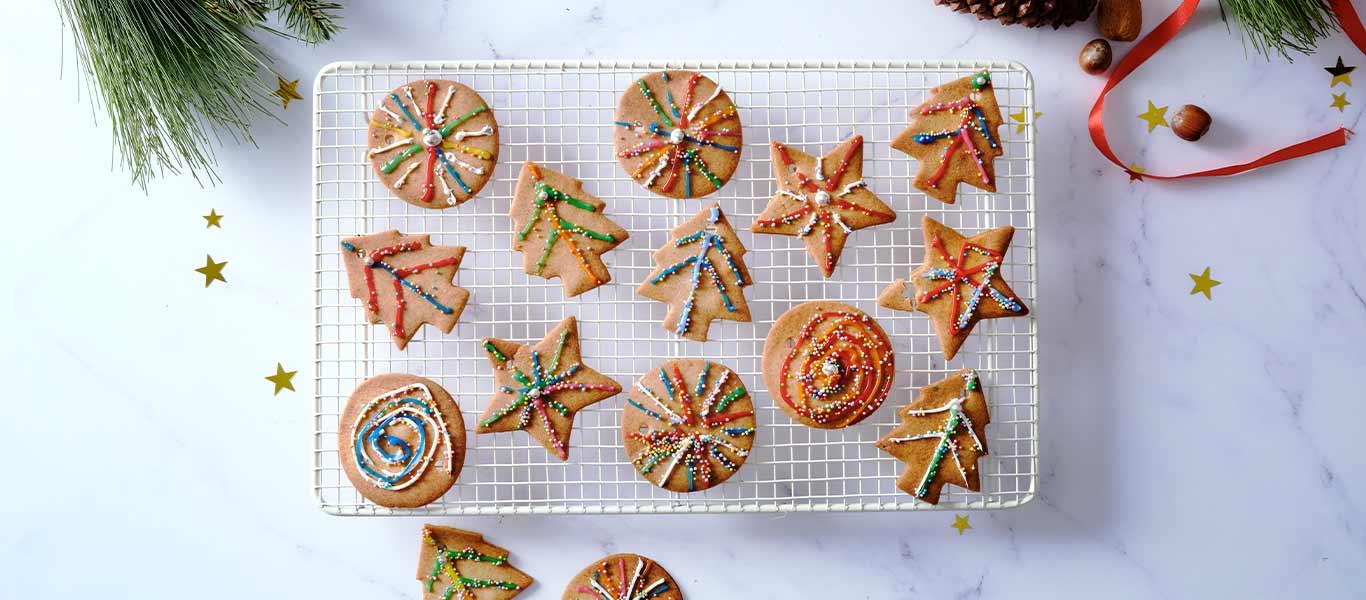 Ingredients
120g butter
120g light soft brown sugar
3 tbsp golden syrup
300g plain flour
1 tsp ground ginger
1 tsp ground cinnamon
Various colour icing pens and decorations
Nutrition
Calories column
Fat column
Saturates column
Sugars column
Salt column

Calories
115

per serving

6%

%GDA

Fat
5g

per serving

7%

%GDA

Saturates
3g

per serving

15%

%GDA

Sugars
7g

per serving

8%

%GDA

Salt
0.10g

per serving

2%

%GDA
Method
Place the butter, sugar and golden syrup into a saucepan and set over low heat until just melted.

Whisk together then turn the heat up high, bring to the boil and simmer for a minute.

Meanwhile, tip the flour, ground ginger and cinnamon into a bowl and mix together. Pour the hot butter mixture over the top and mix together until combined into a soft dough.

Tip out onto a lightly floured work surface then wrap in cling film and flatter to a disc about 1cm thick. Set aside for 15 minutes or so until cool enough to handle.

Preheat the oven to 180°C, fan 160ºC, gas mark 4.

Roll the dough out into a disc about 5mm thick then using star, round, diamond cutters, stamp out as many biscuits as you can and transfer to a lined baking tray.

Roll up the ball of leftover dough and roll once more to 5mm thick and stamp out as many biscuits as you can.

Cut a little hole out of the top of each biscuit if you want to thread them and hang onto a Christmas tree.

Place in the oven for 10-12 minutes until cooked through and a light golden brown.

Allow to cool on the tray until totally cold before removing.

Decorate with the icing pens and decorations however you fancy then leave to set for 30 minutes before storing in an airtight container.