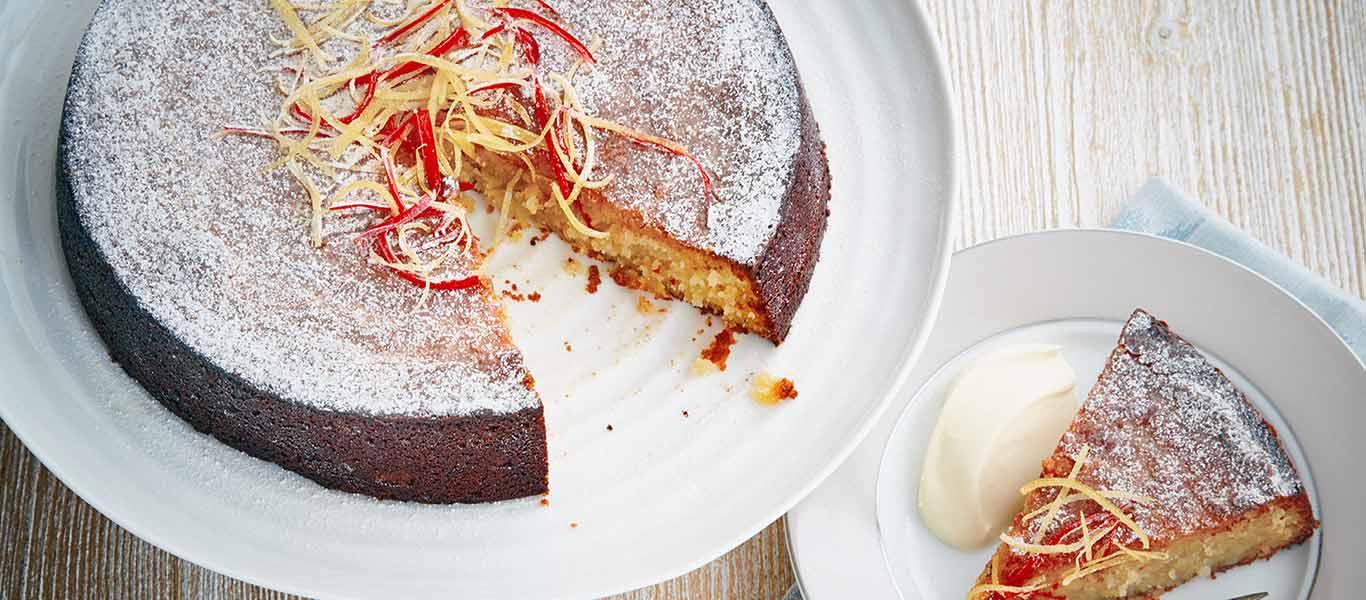 Ingredients
300g butter
300g caster sugar
4 eggs
375g ground almonds
2 lemons, zested and juiced
½red chilli, seeded and finely chopped
Garnish
75g caster sugar
150ml water
1 lemon, peeled and thinly sliced
½ long red chilli, seeded and thinly sliced
200g crème fraîche
Method
Preheat the oven to 180°C/fan 160°C/gas 4 and grease and line a 23cm loose bottomed cake tin.

Whisk the butter and sugar together in a large bowl until it is very light and fluffy. Add the eggs one at a time, then fold in the ground almonds. Mix well then stir in the lemon juice and zest.

Spoon into the cake tin and gently level the top. Place in the oven to bake for 25 minutes until just set and browned on top.

While the cake bakes, put the 75g caster sugar and 150ml water into a saucepan with the lemon and chilli strips. Bring to the boil and simmer for 5 minutes until softened, and the liquid has taken on the flavour.

Leave to cool then when the cake is ready, check that the top springs back when touched gently and if you insert a skewer into the centre, it comes out cleanly. If not, return to the oven for another 5 minutes and check again.

Spoon the lemon chilli mixture over the top of the cake, letting it soak into the cake.

Serve cut into wedges with a quenelle of crème fraîche.