Serves : 2 as a Main Course, or 4 as a Starter
Preparation Time: 5 minutes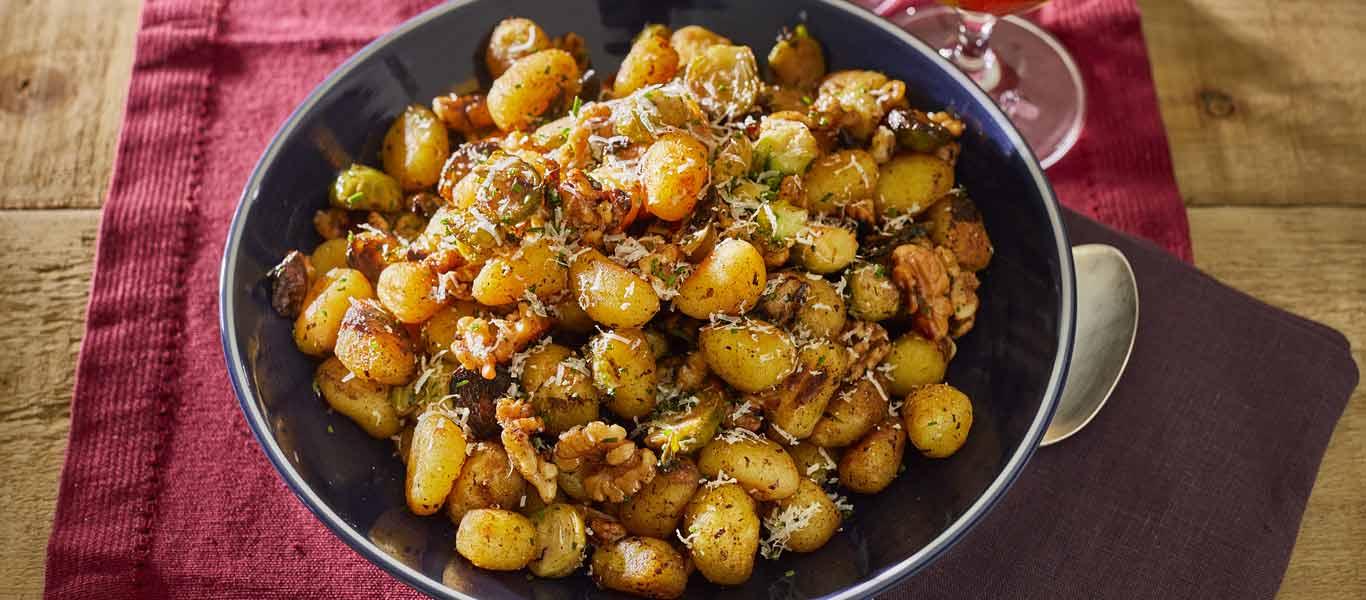 Ingredients
160g Brussel sprouts, halved lengthways
2 tbsp olive oil
500g gnocchi
100g roughly chopped walnuts
50g butter
2 tbsp freshly grated parmesan
1 lemon, zested and juiced
1 tbsp finely chopped chives
Nutrition
Calories column
Fat column
Saturates column
Sugars column
Salt column

Calories
535

per serving

27%

%GDA

Fat
36g

per serving

51%

%GDA

Saturates
12g

per serving

60%

%GDA

Sugars
3g

per serving

3%

%GDA

Salt
0.80g

per serving

13%

%GDA
Method
Bring a small pan of salted water to the boil. Add the sprouts and simmer for 2-3 minutes until just tender. Drain and leave in the colander set over the pan, just to make sure all the water comes out.

Heat a frying pan until hot. Add the oil and gnocchi and fry for 2-3 minutes until just turning golden brown. Add the sprouts and continue to fry for another 2-3 minutes – you want everything to be golden brown and slightly crispy.

Add the walnuts and fry for another minute.

Push the gnocchi to one side to create a little space. Add the butter and cook until it is just turning brown then add the lemon zest and juice.

Stir through the gnocchi then remove from the heat. Stir in half the chives then parmesan and remaining chives and serve straightaway.