Desserts Golden Halloween Pumpkin Biscuits
---
Preparation Time: 20 minutes
Cooking Time: 15 minutes, plus cooling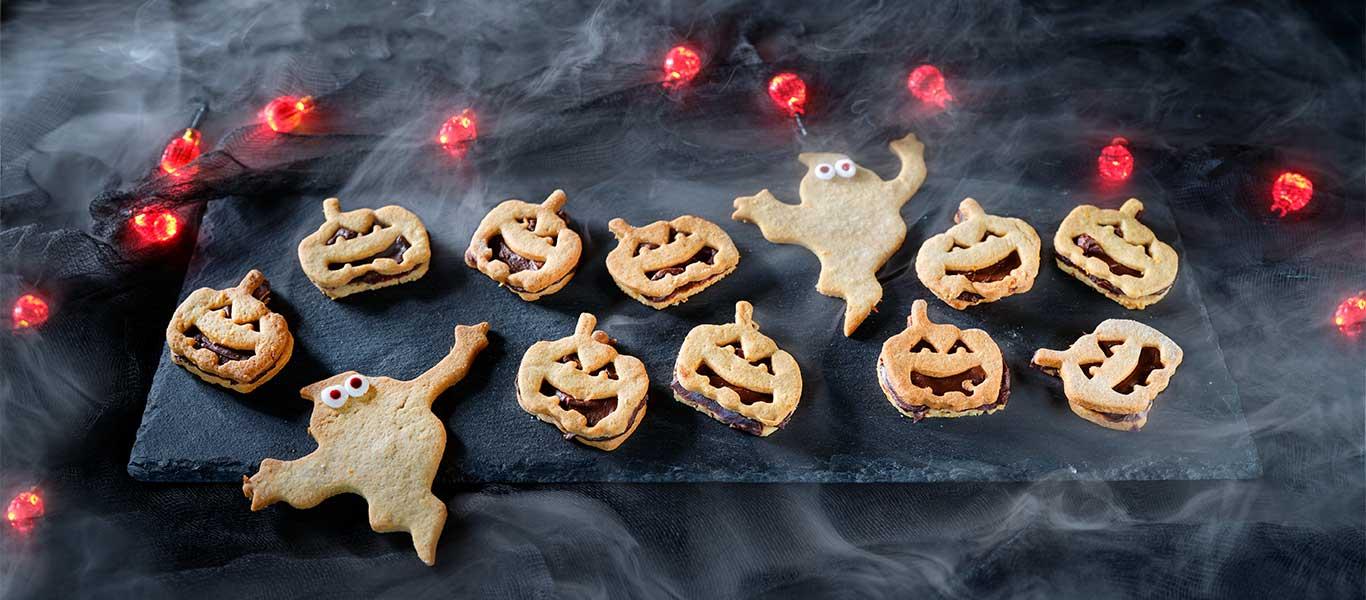 Ingredients
100g butter, softened
100g caster sugar
1 egg
1 orange, zested
2 tbsp orange juice
225g plain flour
1 tsp ground cinnamon
1 tsp ground ginger
75ml double cream
75g dark chocolate, roughly chopped
Nutrition
Calories column
Fat column
Saturates column
Sugars column
Salt column

Calories
141

per serving

7%

%GDA

Fat
8g

per serving

11%

%GDA

Saturates
5g

per serving

23%

%GDA

Sugars
8g

per serving

9%

%GDA

Salt
0.10g

per serving

1%

%GDA
Method
Preheat the oven to 180°C, fan 160°C, gas mark 4. Grease and line 2 baking trays with baking parchment.

Tip the butter and sugar into a bowl and beat for 2-3 minutes until soft and fluffy. Add the egg and orange zest and juice and beat until incorporated.

Add the flour, ground cinnamon and ginger and mix to a soft dough.

Tip out onto a lightly floured work surface and knead gently until smooth.

Roll the dough out into a disc about 4mm thick then using a pumpkin cutter, stamp out as many biscuits as you can and transfer to a lined baking tray.

Roll up the ball of leftover dough and roll once more to 4mm thick and stamp out as many biscuits as you can.

Place in the oven for 12-15 minutes until cooked through and a light golden brown.

Allow to cool on the tray until totally cold before removing.

Meanwhile, pour the cream into a saucepan and bring to a simmer, stirring occasionally. Add the chocolate and immediately remove from the heat. Stir until the mixture is smooth then set aside until thickened and cooled (as long as it takes for the biscuits to cool – about 15 minutes.)

When the biscuits are cold, spoon a little chocolate ganache over half of them.

Top with the other half of the biscuits, correct side up and press gently together.

Set aside for 30 minutes until the ganache has set then serve.

Keep in an airtight container once set.