Preparation Time: 5 minutes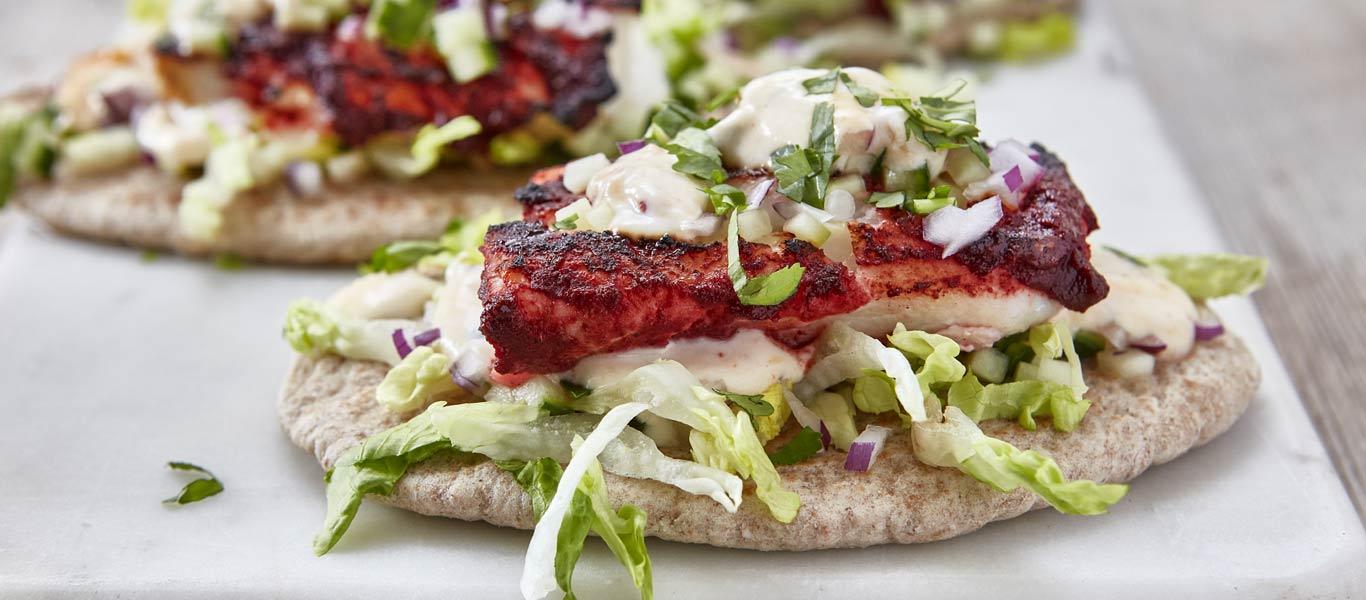 Ingredients
4 x 100g boneless skinless cod fillets
2 tbsp tandoori spice paste
150g 0% fat Greek yoghurt
2 tbsp mango chutney
4 pitta breads
1 head little gem, leaves separated and shredded
½ cucumber, very finely diced
½ red onion, very finely diced
1 tbsp roughly chopped coriander
Nutrition
Calories column
Fat column
Saturates column
Sugars column
Salt column

Calories
340

per serving

17%

%GDA

Fat
3g

per serving

4%

%GDA

Saturates
1g

per serving

3%

%GDA

Sugars
10g

per serving

11%

%GDA

Salt
1.30g

per serving

22%

%GDA
Method
Preheat the grill to medium and line the grill tray with foil.

Place the cod fillets onto a plate and spoon the tandoori paste over the top, then stir to coat totally.

Place the fillets onto the lined tray and grill for 3-4 minutes on each side until just charred and cooked through. The fish will flake easily when it is cooked - if not, return it to the grill for another 1-2 minutes and check again.

Meanwhile, tip the yogurt into a bowl, add the mango chutney and mix well.

When the cod is cooked, place onto a plate to rest while you toast the pittas.

Divide the pitta breads between serving plates, top with the little gem, cucumber, red onion and a dollop of mango yogurt. Top with the cod then layer up some more cucumber, red onion, last dollop of mango yogurt and coriander.