Preparation Time: 10 minutes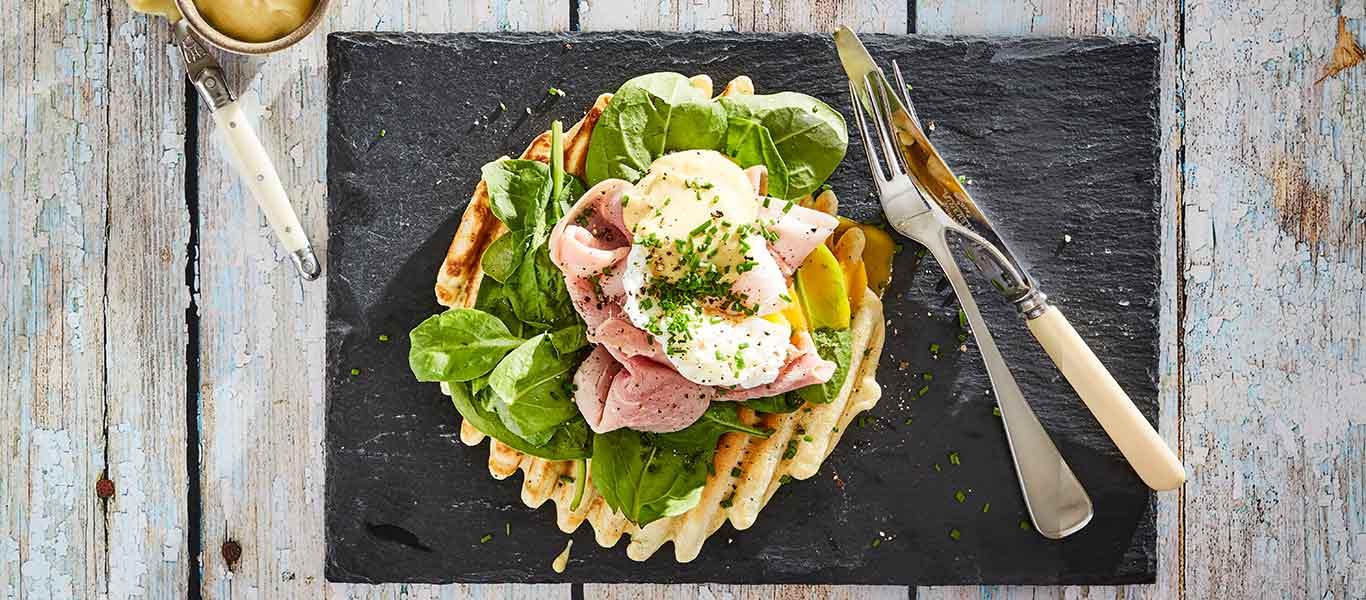 Ingredients
200g sliced ham
240g self-raising flour
6 eggs
300ml semi skimmed milk
Sea salt and freshly ground black pepper
3 tbsp finely sliced chives
2 tsp vegetable oil
1 tbsp white wine vinegar
80g baby spinach leaves
2 tsp Dijon mustard
4 tbsp light salad cream
Method
Shred 50g ham and set the rest aside.

Tip the flour into a bowl, add 2 of the eggs, the milk, salt and black pepper and mix really well together, working outwards until all the flour is mixed in and the batter is smooth.

Add the shredded ham and 2/3 of the chives and mix once more.

Pour ½ tsp oil over a griddle pan and rub in with kitchen roll, until just lightly coated in oil, then set over a medium low heat until hot.

Pour a small ladleful of batter into the centre of the griddle and cook for 2-3 minutes on each side. Set aside and repeat with the remaining batter – you can do 4 large ones or 8 smaller ones.

Fill a saucepan with water and set over a high heat. Bring to the boil, add the vinegar and swirl the water around to create a vortex in the centre of the pan.

Crack 2 of the eggs into the pan on opposite sides then turn the heat down to a gentle simmer and cook for 2 minutes until just set. Repeat with the other 2 eggs.

Meanwhile, whisk the mustard and salad cream together in a bowl.

Divide the waffles between serving plates, then top with the spinach leaves, ham, poached eggs, mustard cream and the rest of the chives and some black pepper.

Serve straight away.