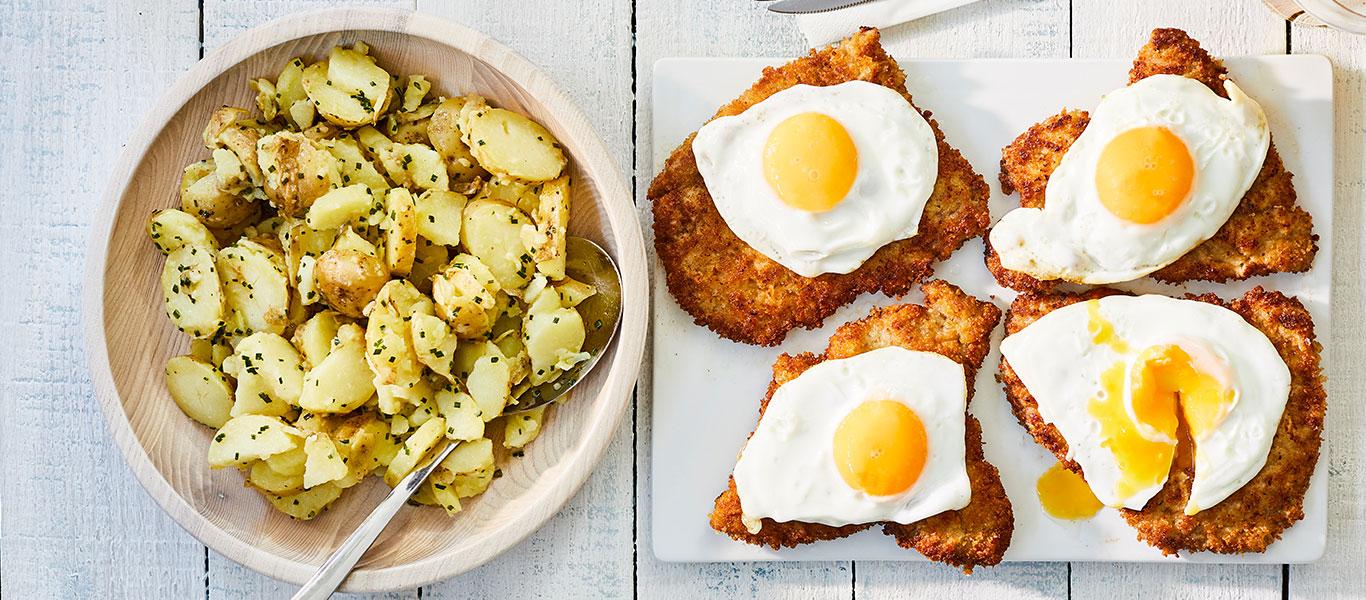 Ingredients
600g new potatoes, scrubbed

400g pork tenderloin

sea salt and freshly ground black pepper

50g plain flour

6 eggs

100g fresh fine breadcrumbs

groundnut oil, for shallow frying

2tbsp finely chopped chives

2 tbsp white wine vinegar

5 tbsp olive oil
Nutrition
Calories column
Fat column
Saturates column
Sugars column
Salt column

Calories
655

per serving

33%

%GDA

Fat
33g

per serving

47%

%GDA

Saturates
7g

per serving

35%

%GDA

Sugars
3g

per serving

3%

%GDA

Salt
0.80g

per serving

13%

%GDA
Method
Place the potatoes into a medium saucepan, cover with water then add a pinch of salt. Bring to the boil then turn the heat down and simmer gently for 15 minutes until tender. Pierce with a knife to check that they are tender.

Meanwhile, cut the pork in half widthways then cut each half in half widthways so you have 4 rectangular pieces. Place between 2 pieces of cling film and hit gently with a rolling pin until about 5mm thick.

Season the pork with salt and black pepper then set aside.

Place the flour into one large shallow bowl, crack 2 eggs into another bowl and place the breadcrumbs into a third bowl.

Add a pinch of salt and black pepper to the flour and eggs then beat the eggs well.

Dip the pork a piece at a time, into the flour, then into the egg and finally into the breadcrumbs, making sure that all sides are coated totally. Set aside then repeat with the remaining pieces of pork.

Drain the potatoes and refresh in cold water until cool enough to be able to handle. Cut into thick slices and drop into a bowl.

Pour the vinegar and olive oil into a small bowl and whisk together, then add the pinch of salt and black pepper and stir in the chives.

Tip the chive salad dressing over the potatoes and stir gently to coat the potatoes in the dressing. Set aside to soak into the potatoes while you fry the pork.

Heat a large, non-stick frying pan until medium hot, then add enough oil to just coat the bottom of the pan. Heat until just shimmering, then add half the pork slices and fry gently on each side for 2 minutes until golden brown and crispy – the pork should be cooked through. Remove and place onto a kitchen paper lined plate. Repeat with the remaining slices, adding a little more oil if necessary.

Add a little more oil to the pan, then crack the remaining eggs into the pan and fry until cooked.

Place the schnitzel onto the serving plates and top with the fried egg, then spoon the potato salad alongside.