Preparation Time: 10 minutes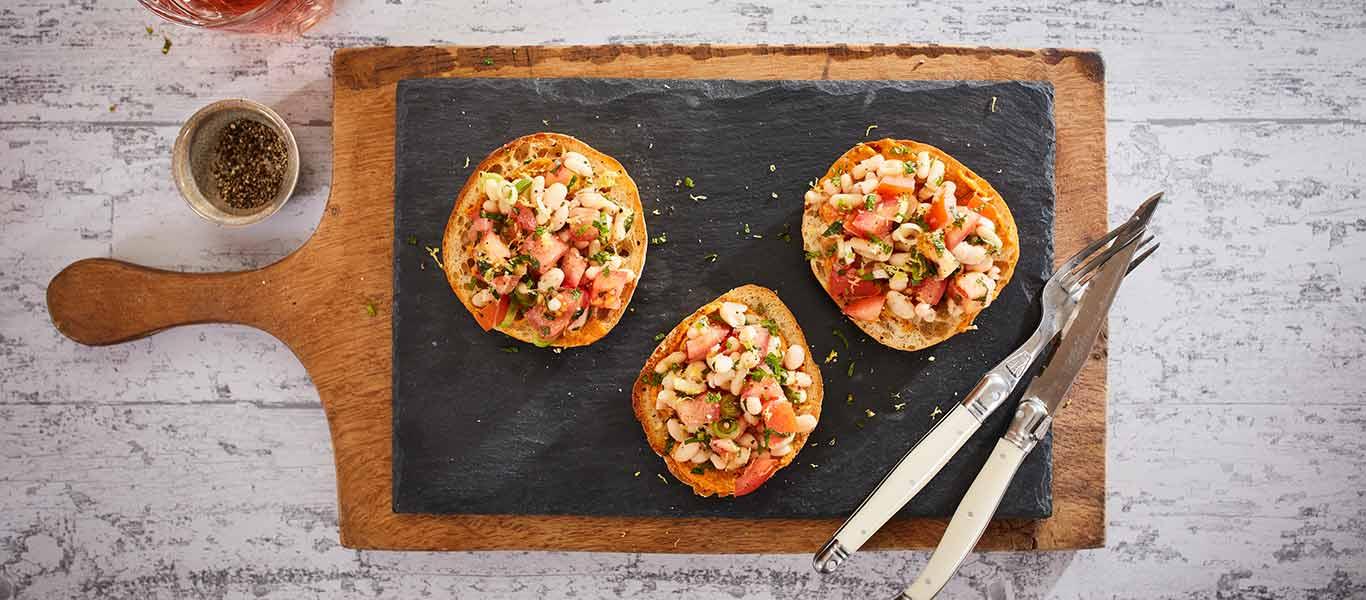 Ingredients
4 x ciabatta rolls, cut into 3 horizontally
Spray olive oil Sea salt and freshly ground black pepper
1 x 400g tin haricot beans, rinsed and drained
2 spring onions, finely sliced
3 medium tomatoes, roughly chopped
2 tbsp shredded mint leaves
4 tsp olive oil
1 lemon, zested
4 tbsp Filippo Berio tomato and ricotta pesto
Nutrition
Calories column
Fat column
Saturates column
Sugars column
Salt column

Calories
369

per serving

18%

%GDA

Fat
11g

per serving

16%

%GDA

Saturates
2g

per serving

10%

%GDA

Sugars
4g

per serving

4%

%GDA

Salt
1.30g

per serving

22%

%GDA
Method
Preheat the oven to 180°C, fan 160°, gas mark 4.

Lay the bread slices onto an oven tray and spray with a little olive oil then season with black pepper.

Place in the oven to bake for 5-10 minutes, until golden brown and just crispy.

Meanwhile, toss the beans into a bowl. Add the spring onions, mint leaves, tomatoes, ¾ of the lemon zest, salt and black pepper and the olive oil. Toss to combine and set aside.

When the bruschetta is ready, spread with a little tomato and ricotta pesto, then pile the bean mixture on top.

Top with the last of the lemon zest and some black pepper and serve straightaway.