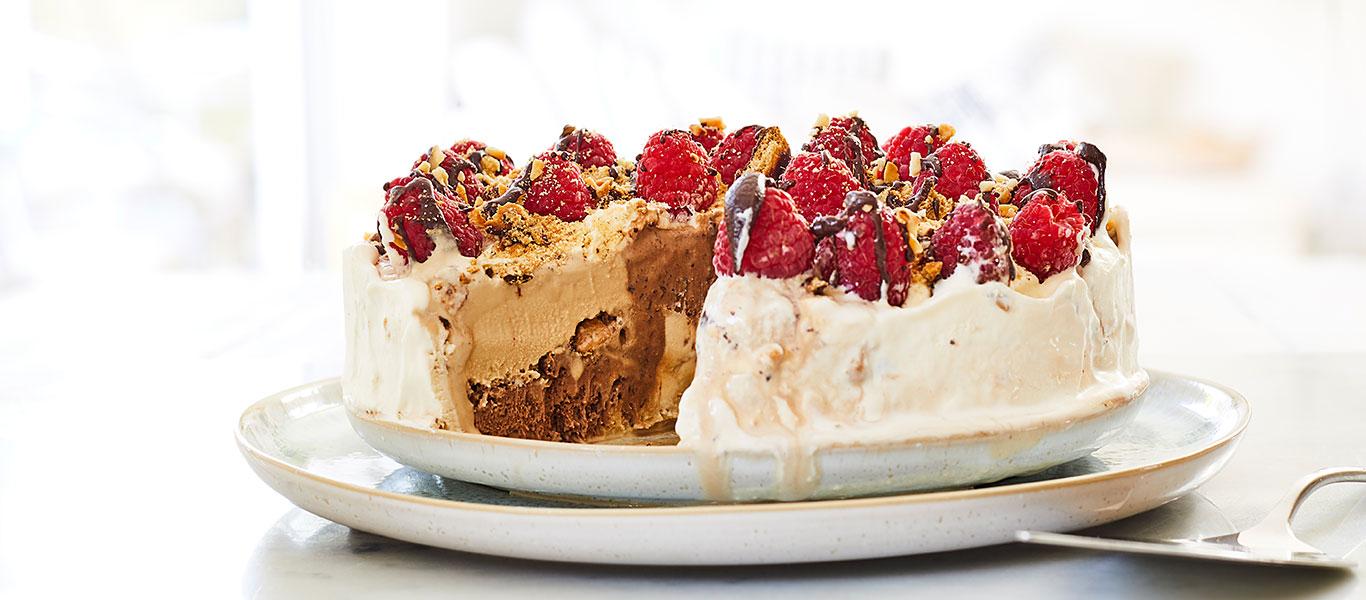 Ingredients
400g chocolate ice cream, softened

400g salted caramel ice cream, softened

400g coffee ice cream, softened

400g vanilla ice cream, softened

6 dark chocolate digestive biscuits

250ml whipping cream

200g raspberries

25g caster sugar

25ml water

50g dark chocolate chips or roughly chopped

2 tbsp chopped roasted mixed nuts
Nutrition
Calories column
Fat column
Saturates column
Sugars column
Salt column

Calories
373

per serving

18%

%GDA

Fat
21g

per serving

30%

%GDA

Saturates
12g

per serving

60%

%GDA

Sugars
27g

per serving

30%

%GDA

Salt
0.20g

per serving

3%

%GDA
Method
Rub a little vegetable oil around the inside of a 20cm x 9cm loose bottomed cake tin. Press a layer of cling film into cake tin so that it covers the sides and base, then place another piece in at 90° to the first sheet so that the inside is totally covered.

Using an ice cream scoop, place alternate scoops of the various ice creams into the base of the tin, so that the base is covered – you want to make the colour difference between scoops as vivid as possible – so chocolate next to vanilla, then coffee then caramel, and so on.

Crumble the chocolate digestives into any gaps between the scoops.

Repeat with the remaining ice cream, in scoops over the top.

Cover with the cling film from the sides of the tin and gently press down evenly, so that it compacts the ice cream and biscuits together.

Place in the freezer to set for at least 3 hours, preferably overnight.

Remove from the freezer then the cake tin, peel off the cling film and place upside down onto a serving plate.

Pour the whipping cream into a large bowl and whisk until soft peaks form. Spoon onto the top of the cake and spread over the top and down the sides until it is totally covered.

Return to the freezer while you make the chocolate sauce. Tip the caster sugar and water into a small saucepan and heat until simmering, stirring occasionally. Add the chocolate and whisk until smooth and thickened.

Remove from the heat and allow to cool. When the chocolate sauce is cold, remove the ice cream cake from the freezer and decorate the top of the cake with raspberries.

Crumble the remaining digestive biscuits over the raspberries, then drizzle the cooled chocolate sauce over the top and finish with the chopped nuts.

Serve straight away.

Can be made in advance, covered in cling film and returned to the freezer until needed – remove and allow to soften for 15-20 minutes before serving.