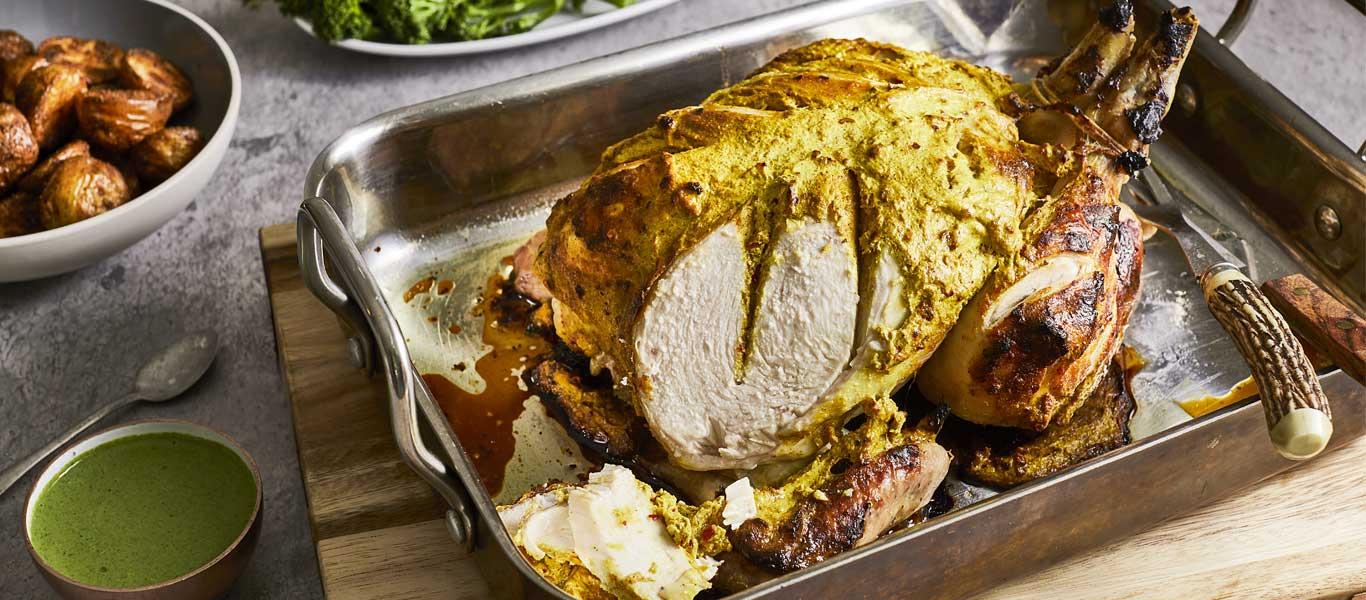 Ingredients
250g 0% Greek yoghurt

2 tsp ground coriander

1 tsp chilli flakes

1 tsp ground cumin

1 tsp ground cinnamon

½ tsp ground turmeric

freshly ground black pepper

3 garlic cloves, finely grated

5cm piece ginger, peeled and finely grated

2kg whole chicken

500g mini roasting potatoes, halved

2 tsp vegetable oil

1 tsp smoked paprika

1 small bunch coriander, roughly chopped

75g natural yoghurt

480g tender stem broccoli
Nutrition
Calories column
Fat column
Saturates column
Sugars column
Salt column

Calories
387

per serving

19%

%GDA

Fat
8g

per serving

11%

%GDA

Saturates
2g

per serving

10%

%GDA

Sugars
5g

per serving

6%

%GDA

Salt
0.60g

per serving

10%

%GDA
Method
Preheat the oven to 200°C, fan 180°C, gas mark 6.

Tip the Greek yoghurt into a bowl and stir in 1 tsp ground coriander, the chilli flakes, ground cumin, cinnamon and turmeric then add plenty of freshly ground black pepper. Stir in the garlic and ginger and stir once more.

Place the chicken onto a roasting tin and make 3 deep slashes into each of the breasts and thighs. Scoop the yoghurt mixture over the top and rub all over the chicken, pressing into the slashes so it's totally covered.

Put the potatoes onto a large roasting tray, add the oil, smoked paprika and remaining 1 tsp ground coriander. Season with black pepper and toss until the potatoes are totally coated in the spices.

Place both the chicken and potatoes into the oven to roast for 1 hour until the chicken is cooked through and the potatoes are tender.

Put the coriander into a small processor or blender and blitz until just chopped. Add the natural yoghurt and blitz until nearly smooth, then decant into a serving dish.

Bring a pan of water to the boil, add the broccoli and simmer for 5 minutes until just tender.

Serve the broccoli alongside the chicken, potatoes and coriander yoghurt.