Desserts Jack Daniels and Coke Mousse Cake
---
Preparation Time: 15 minutes
Cooking Time: 20 minutes plus cooling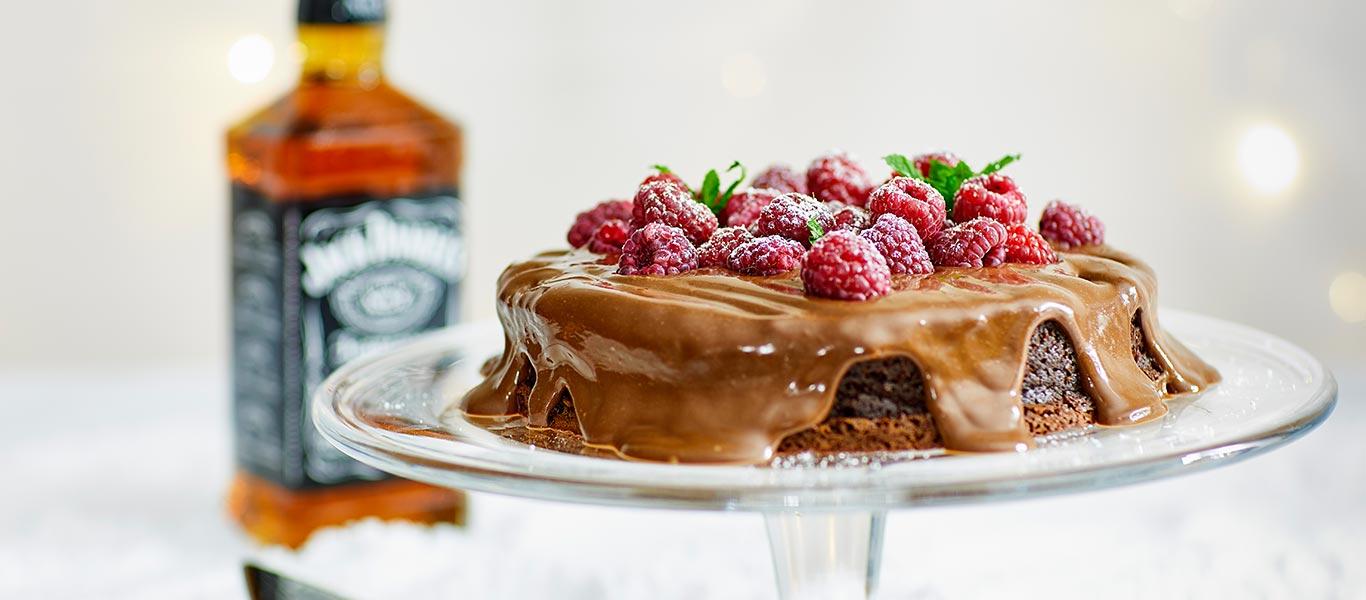 Ingredients
300g dark chocolate, (70% cocoa) roughly chopped

100g butter

100ml Jack Daniels

150ml Coca Cola

4 eggs

75g light soft brown sugar

100ml double cream

150g raspberries

2 tsp icing sugar
Method
Preheat the oven to 170C/fan 150C/gas mark 3. Grease and line a 20cm loose bottomed spring-form cake tin.

Place 200g of the chocolate into a heatproof bowl with the butter and set it over a pan of simmering water, the bottom of the bowl must not touch the water – it should just rest above it. Heat until the chocolate and butter has dissolved – only stir when you can see that it is nearly all liquid.

Remove and stir in 75ml the Jack Daniels then set aside to cool.

Place the eggs, sugar and 100ml of the Coco Cola into a bowl and whisk until the mixture is thickened and are really foamy – this will take a good 5 minutes in a food mixer or with an electric whisk.

Pour the chocolate mixture onto the egg mixture and gently whisk together until combined.

Pour into the prepared cake tin and place in the oven for 15-20 minutes until just set – it will wobble in the centre slightly.

Remove and cool in the tin for 30 minutes before turning out onto a serving plate.

Melt the remaining 100g of chocolate in a heatproof bowl as before. Pour the remaining 25ml Jack Daniels and 50ml Coco Cola into a bowl and whisk together. Add the double cream and stir through until just thickened.

Spread the chocolate cream over the cake then decorate with raspberries and the mint sprigs, and dust with icing sugar. Cut into wedges to serve.

If made in advance and chilled in the fridge, remove and leave at room temperature for 30 minutes before serving.