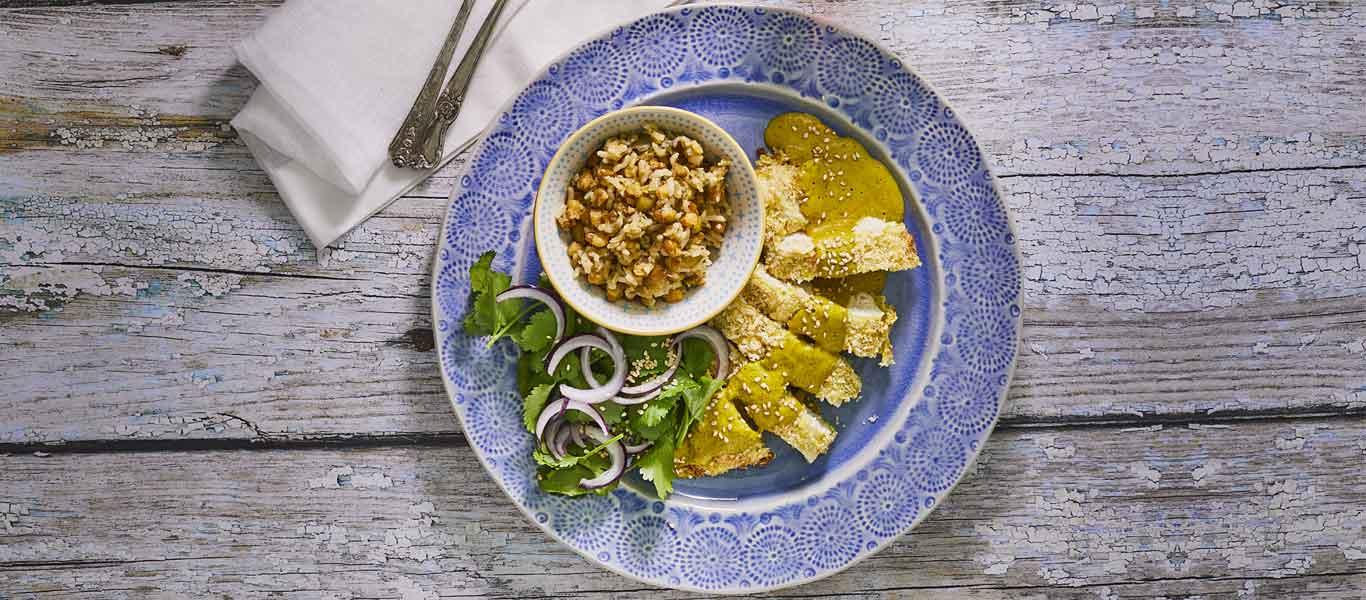 Ingredients
25g plain four
1 tbsp medium curry powder
2 eggs
sea salt and freshly ground black pepper
25g panko breadcrumbs, or natural dried breadcrumbs
25g desiccated coconut
2 boneless skinless chicken breasts
1 tbsp rapeseed oil
1 small onion, finely chopped
1 tbsp peanut butter
1 small bunch coriander, stalks chopped, leaves left long
250ml chicken stock
2 x 140g microwaveable pulse, edamame and spring onion rice
¼ red onion, finely sliced
1 tbsp sesame seeds, optional
Nutrition
Calories column
Fat column
Saturates column
Sugars column
Salt column

Calories
714

per serving

35%

%GDA

Fat
28g

per serving

40%

%GDA

Saturates
11g

per serving

55%

%GDA

Sugars
9g

per serving

9%

%GDA

Salt
1.50g

per serving

25%

%GDA
Method
Preheat the oven to 220°C, fan 200°C, gas mark 8 and line a baking tray with parchment paper.

Take 3 shallow bowls, and place the flour and 1 tsp of the curry powder in one, the eggs in the second and the breadcrumbs and coconut in the third.

Mix the flour and curry powder together, season the eggs with salt and black pepper, then toss the breadcrumbs and coconut together.

Dip the chicken in the flour first, so that it's totally covered, then the egg and finally the breadcrumbs, so it's totally coated in each element.

Place straight onto the baking tray in a single layer and place in the oven to bake for 15-20 minutes until just golden and cooked through.

Meanwhile, heat a saucepan until medium hot, add the oil and onion and cook for 3-4 minutes until softened but not coloured.

Add the remaining 2tsp of curry powder and cook for 1 minute, then stir in the peanut butter and chicken stock. Bring to the boil, stirring well so that the peanut butter dissolves into the mixture, then add the coriander stalks, turn the heat down and simmer for 5 minutes.

When the sauce has reduced just slightly, and the onions are tender, transfer to a jug blender or use a stick blender and blitz until smooth.

Place the rice into a microwave and cook according to pack instructions

Serve the rice with the chicken next to It and the sauce poured over the top. Finish with the remaining coriander leaves, red onion and sesame seeds.