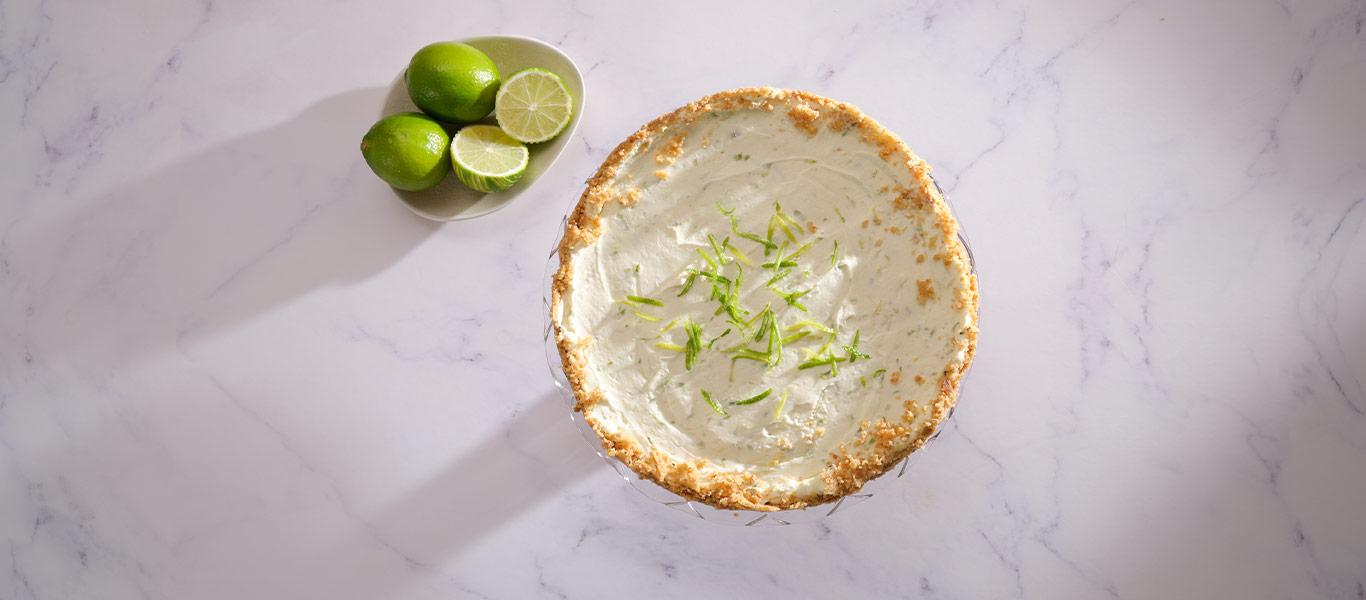 Ingredients
200g butter
400g digestive biscuits
600ml double cream
1 x 400g tin condensed milk
5 limes, zested and juiced
Nutrition
Calories column
Fat column
Saturates column
Sugars column
Salt column

Calories
636

per serving

32%

%GDA

Fat
50g

per serving

71%

%GDA

Saturates
30g

per serving

150%

%GDA

Sugars
24g

per serving

27%

%GDA

Salt
0.90g

per serving

15%

%GDA
Method
Line the base of a 23cm loose bottomed cake tin with parchment paper, then butter the sides very well.

Place the butter in a heatproof bowl and microwave for 30-60 seconds until melted, or tip into a saucepan and heat until melted.

Tip the biscuits into a food processor and blitz until they are just fine crumbs. Alternatively, place into a plastic bag and bash with a rolling pin.

Add the melted butter and mix until it looks a little like sand and the crumbs are totally coated in butter.

Tip the crumbs into the cake tin and press with the back of a spoon into the base and sides until totally covered in an even layer of crumbs, then set aside.

Pour the double cream into large bowl and whisk until soft peaks form.

Add the condensed milk and whisk until combined, then add the zest from 4 limes, and the juice from all of them.

Whisk until thickened then pour into the biscuit lined cake tin and spread evenly until level.

Place in the fridge for at least 4 hours until set. Run a knife around the edge of the cake tin to loosen, then open the tin and ease the cake out onto a serving plate.

Scatter with the last of the lime zest over the top. Serve cut into wedges.