Preparation Time: 20 minutes
Cooking Time: 3.5 - 4 hours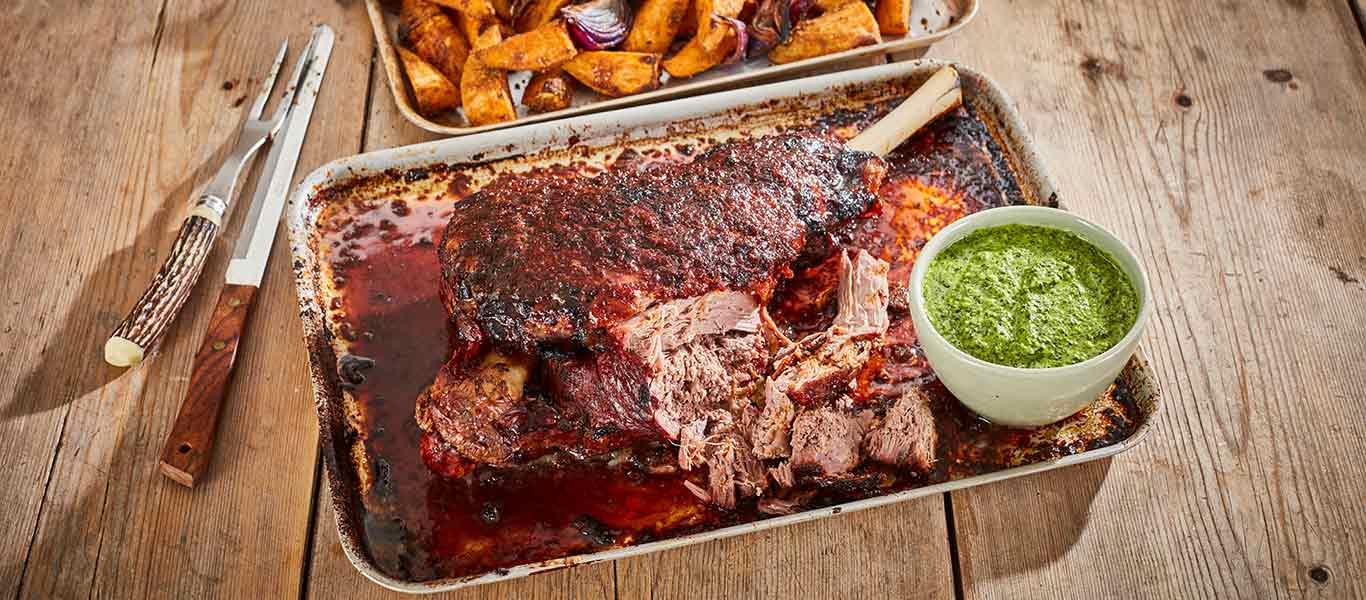 Ingredients
1 leg of lamb
2 garlic cloves, finely grated or crushed
2 red chillies, seeded and finely chopped
5cm ginger, peeled and finely grated or chopped
1 bunch spring onions, finely chopped
3 tbsp soy sauce
2 tbsp honey
6 sweet potatoes, peeled and cubed
1 tbsp vegetable oil
1 tbsp ground cumin
1 tbsp ground coriander
2 red onions, cut into wedges
Ingredients for salsa –
1 large or 2 small bunches coriander, roughly chopped
30g Old El Paso jalapeno green chillies, drained 
1 lime, zested and juiced
2 tbsp vegetable oil
3 tbsp 0% natural yoghurt
1 tbsp honey
Nutrition
Calories column
Fat column
Saturates column
Sugars column
Salt column

Calories
728

per serving

36%

%GDA

Fat
31g

per serving

44%

%GDA

Saturates
11g

per serving

55%

%GDA

Sugars
27g

per serving

29%

%GDA

Salt
1.90g

per serving

32%

%GDA
Method
Preheat the oven to 180°C, fan 160°, gas mark 4.

Tip the garlic, chillies, ginger, spring onions, soy sauce and honey into a food processor and blitz to a chunk paste, scrapping the sides down if necessary.

Place the lamb into a roasting tray, then spread the paste over the lamb so that it's totally covered.

Pour a glass of water into the base of the tray, cover the whole thing with foil and place in the oven for 3 hours. Remove the foil and return to the oven for another hour, until the lamb is just crispy on the surface, but really tender and falling off the bone.

Meanwhile, place the potatoes into an oven tray. Drizzle with the oil, then add the cumin and coriander, salt and black pepper and toss to coat. Add the red onions and place in the oven when the lamb has 45 minutes left to cook.

Tip the coriander, chillies, lime zest and juice, vegetable oil, yoghurt and honey into a food processor and blitz to a smooth puree.

Serve the lamb with the roasted sweet potatoes and coriander salsa alongside.