Preparation Time: 10 minutes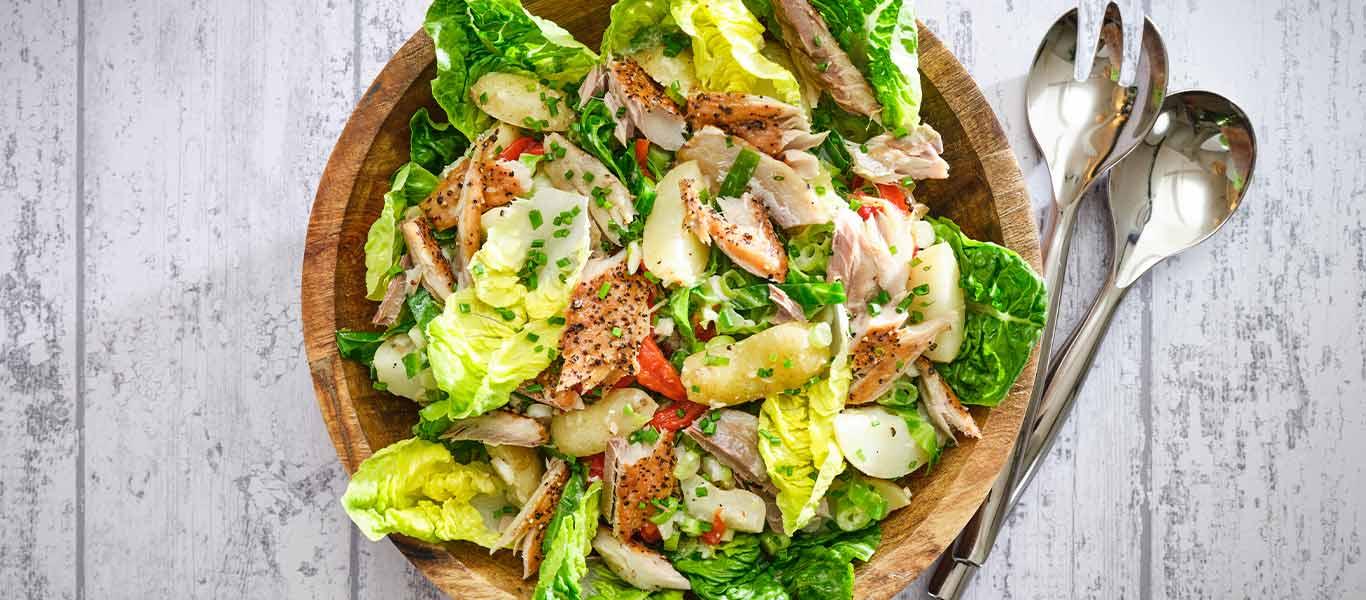 Ingredients
500g new potatoes, halved or quartered if large
80g spring greens, shredded
2 tbsp horseradish sauce
3 tbsp olive oil
Sea salt and freshly ground black pepper
6 spring onions, sliced
3 roasted peppers, seeded and thickly sliced
1 head little gem, leaves separated
2 smoked mackerel fillets, skinned and flaked
1 tbsp finely chopped chives
Nutrition
Calories column
Fat column
Saturates column
Sugars column
Salt column

Calories
373

per serving

19%

%GDA

Fat
21g

per serving

30%

%GDA

Saturates
4g

per serving

20%

%GDA

Sugars
11g

per serving

12%

%GDA

Salt
1.60g

per serving

27%

%GDA
Method
Place the potatoes into a saucepan, cover with water and bring to the boil. Turn the heat down and simmer for 15 minutes until nearly tender.

Add the spring greens and simmer for another couple of minutes until tender.

Drain and return to the pan to steam dry for a couple of minutes.

Meanwhile, pour the horseradish and olive oil into a bowl, season with salt and black pepper and whisk together.

Tip the warm potatoes into the dressing and toss until coated.

Stir in the spring onions, red peppers and little gem leaves then spoon onto a serving plate.

Flake the smoked mackerel over the salad, top with the chives and serve straightaway.