Preparation Time: 10 minutes
Cooking Time: 30 minutes plus cooling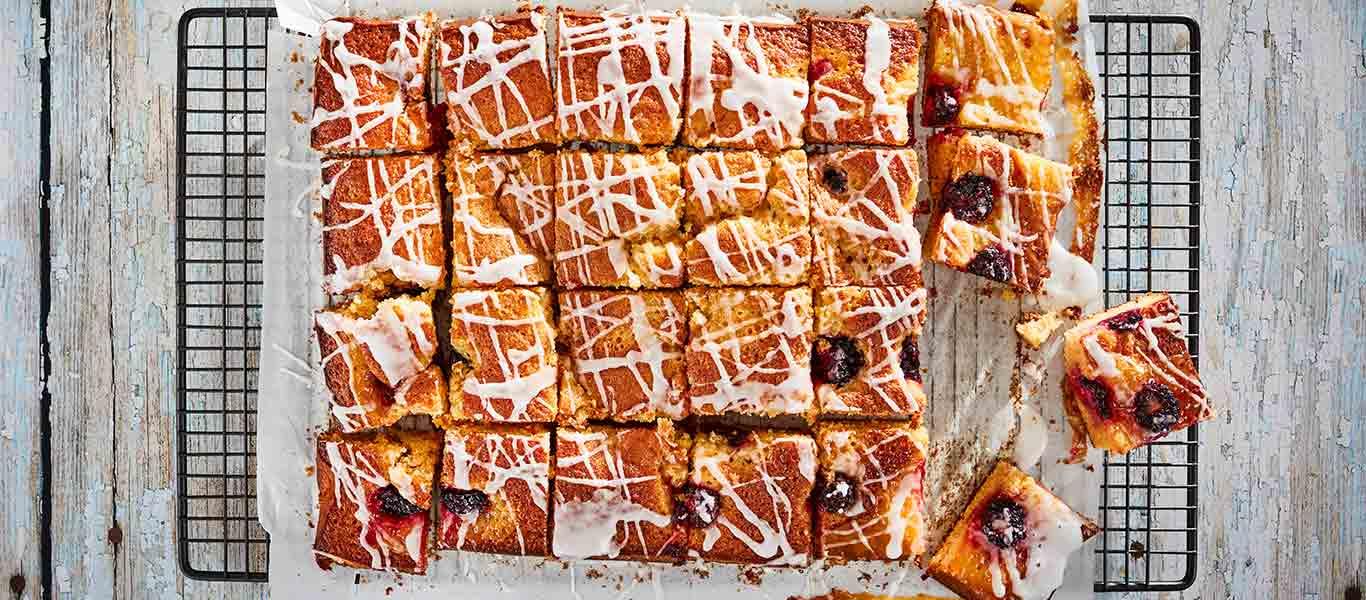 Ingredients
200g butter
200g soft light brown sugar
4 eggs
225g self-raising flour
300g lemon curd
150g blackberry, halved if large (can use fresh or frozen)
Icing -
90g Icing Sugar
15ml Lemon Juice
Method
• Preheat the oven to 190°C/fan 170°C/ gas mark 5. Grease and line a 23cm x 30cm traybake tin.

Melt the butter in a saucepan over a gentle heat, or in the microwave for 45-60 seconds until just melted but not hot. Whisk until smooth then set aside.

Whisk the sugar and eggs together until thickened and pale – at least 5-8 minutes with an electric whisk.

Gently pour in the melted butter whilst whisking, then whisk in the flour and half the lemon curd and mix until totally incorporated into a thick batter. • Pour into the lined tin and tap the tray lightly to settle.

Place into the oven and bake for 15 minutes then scatter the blackberries over the top of the batter, then dollop the remaining lemon curd on top. • Return to the oven for 10-15 minutes until the sponge is golden brown and springs back when pressed lightly.

Remove and allow to cool slightly.

Meanwhile, sieve the icing sugar into a bowl and add the lemon juice. Mix well to a smooth icing.

Drizzle across the top of the cake in a random pattern. Leave for another 10 minutes for the icing to set slightly before cutting into squares and serving.