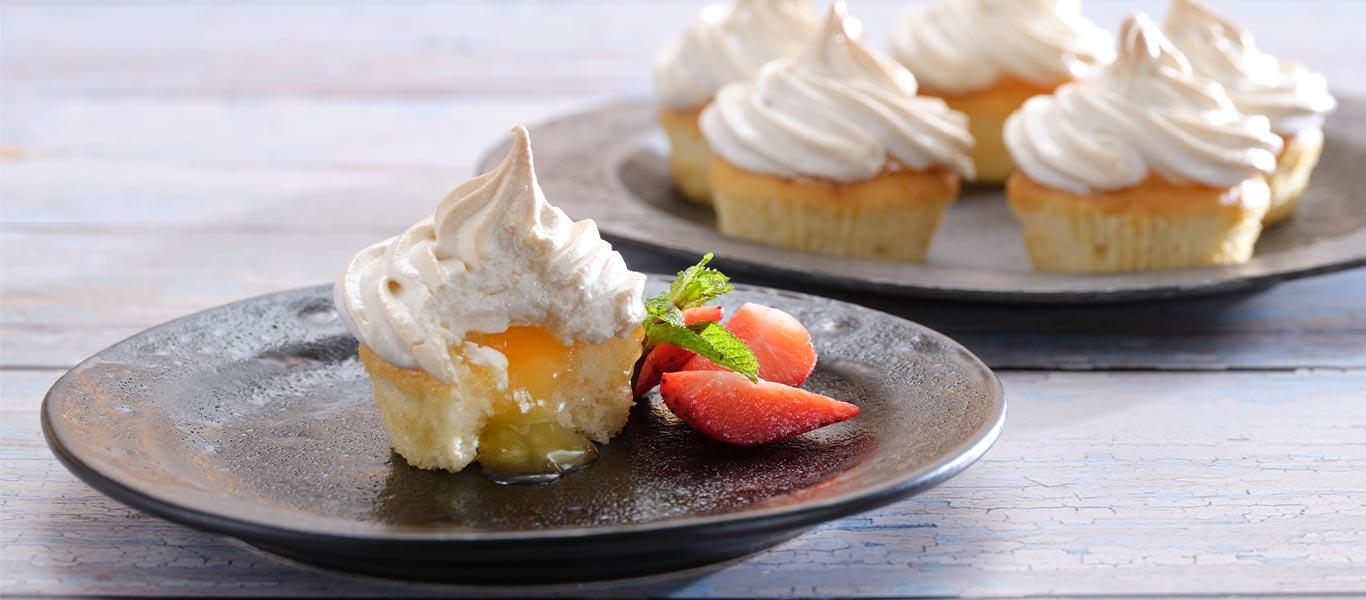 Ingredients
12 ready- made vanilla/plain cupcakes
180g lemon curd
2 egg whites
100g caster sugar
Nutrition
Calories column
Fat column
Saturates column
Sugars column
Salt column

Calories
194

per serving

10%

%GDA

Fat
7g

per serving

10%

%GDA

Saturates
1g

per serving

5%

%GDA

Sugars
24g

per serving

27%

%GDA

Salt
0.20g

per serving

3%

%GDA
Method
Preheat the oven to 200°C, fan 180°C, gas mark 6.

Using the tip of a knife, cut a cone shaped piece of cake out of the centre of each of the cupcakes. (You can use the sponge cones for cake pops, or a trifle, or just eat as is, with a dab of jam!)

Place onto a baking tray and dollop a spoonful of lemon curd in each of the holes in the cupcakes.

Tip the egg whites into a really clean glass or metal bowl and whisk until soft peaks form.

Add a little sugar at a time, continuing to whisk all the time, until the mixture is glossy and at stiff peaks.

Spoon into a piping bag (lined with a fluted nozzle if you have one) and pipe the meringue on top of each cupcake, making sure it covers the lemon curd.

Place into the oven to bake for 10 minutes until the meringue is just golden and crispy.

Serve warm or cold, with the last of the lemon curd drizzled over the top.