Preparation Time: 15 minutes
Cooking Time: 1 hour, plus 30-60 minutes cooling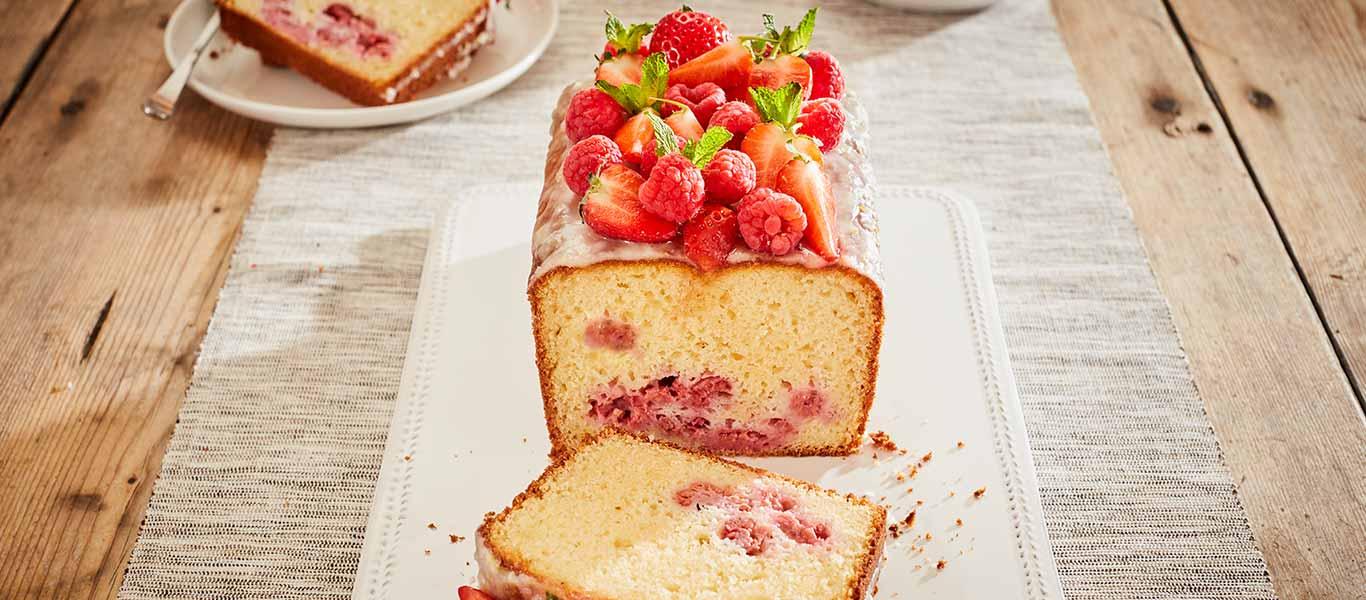 Ingredients
Ingredients –
1 x 425g Betty Crocker luscious vanilla or zesty lemon cake mix
3 eggs
90ml vegetable oil
150ml semi skimmed milk
1 lemon
150g raspberries
10g plain flour
Ingredients for topping –
120g icing sugar
3 tbsp lemon juice
1 lemon, zested
75g raspberries
75g strawberries, some halved and some quartered
6 sprigs mint
Method
Preheat 180°C, fan 160°C, gas mark 4. Grease and line a 1kg loaf tin.

Tip the cake mix into a bowl, add the eggs, oil and milk and whisk for 2-3 minutes until thick and smooth. Zest the lemon into the mix then add 30ml lemon juice – it should be about the juice of the whole lemon.

Pour into the prepared tin and then scatter the raspberries onto the batter.

Bake in the oven for 55-60 minutes until golden brown and just risen. To check the cake is cooked through, insert a skewer in the centre of the cake – if it comes out clean, the cake is cooked, if not return to the oven for 5 minutes and check again.

While the cake bakes, prepare the icing. Sift the icing sugar into a bowl, zest the lemon and squeeze the measured lemon juice in and mix until smooth.

When the cake comes out of the oven, stab little holes all over the cake then pour half of the icing over the top. Leave to cool in the tin until cool.

Remove and peel off the parchment, then place onto a rack over a tray and pour the remaining icing over the top. Set aside until cold then decorate with the raspberries, strawberries and mint.