Makes : 24 (or 36 smaller ones)
Preparation Time: 15 minutes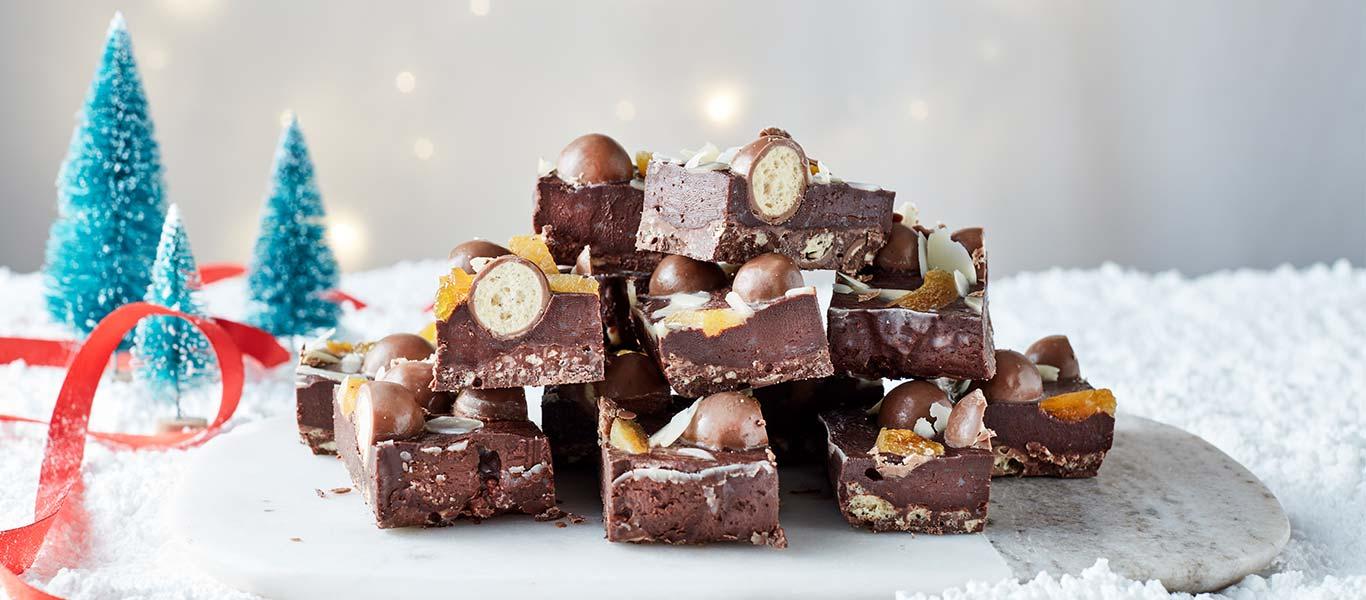 Ingredients
Ingredients for base –
80g dark chocolate
200g Maltesers

Ingredients for topping -
200ml whipping cream
25g butter
200g dark chocolate, roughly chopped
100g Maltesers
30g dried apricots, roughly chopped
1 tbsp flaked almonds
Method
Grease and line a 20cm loose bottomed square cake tin.

Place 80g chocolate into a heatproof bowl set over a pan of simmering water and leave to melt, or place in the microwave for 30 second bursts until melted.

Remove and stir until smooth.

Tip 200g Maltesers into a bowl and bash lightly with the end of a rolling pin until just crushed – you want some large pieces left.

Tip the crushed Maltesers into the melted chocolate and stir really well until all the pieces are coated in the chocolate.

Tip into the lined tin and spread out, using the back of a spoon, pressing down until it totally covers the base of the tin.

Place in the fridge to set while you make the ganache.

Pour the whipping cream into a small saucepan, set over a medium heat and bring to the boil.

As soon as it reaches the boil, add the butter and 200g chopped chocolate and the butter and stir well. remove from the heat and leave to melt for a minute, then stir again until totally smooth.

Pour over the chilled Malteser base and tap the tin against the work surface to settle the ganache.

Scatter the remaining Maltesers, apricots and almonds over the top. Tap the tin against the work surface to settle the ganache then place in the fridge to set for at least 1 hour.

When set, remove from the tin and cut into 24 pieces. Serve straightaway or decant into a sealable container and keep in the fridge for up to 1 week.