Preparation Time: 15 minutes
Cooking Time: N/A. Chilling time – 20 minutes in the freezer or 2 hours in the fridge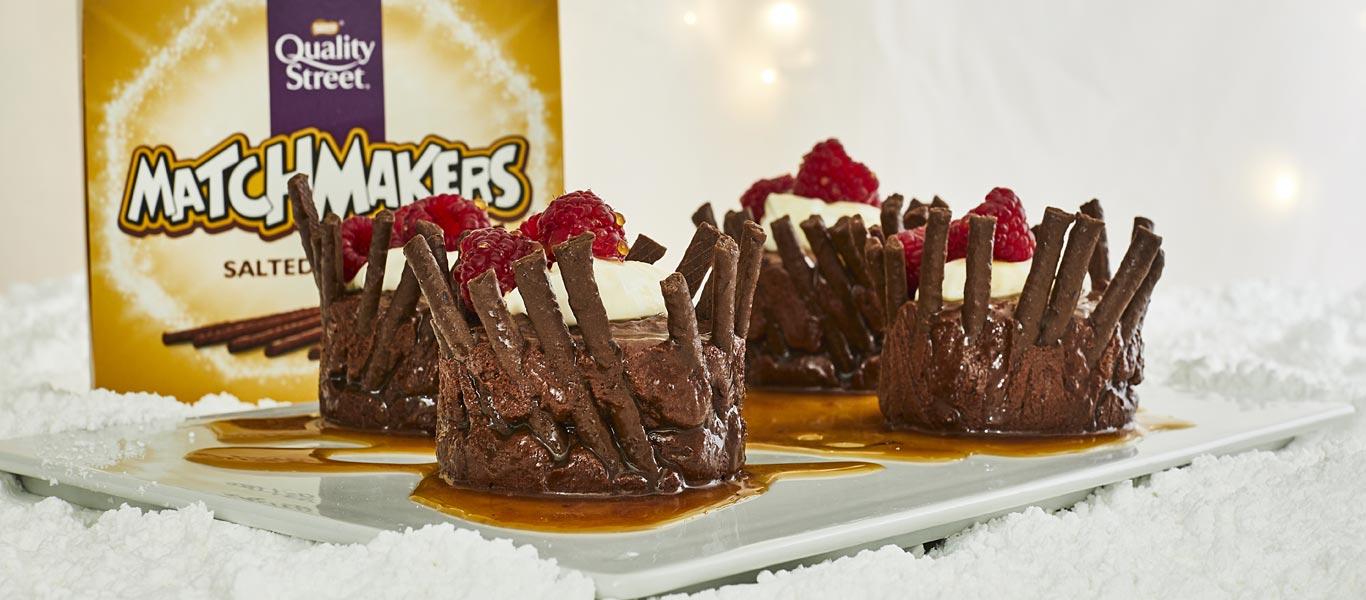 Ingredients
200g 70% dark chocolate, roughly chopped
25g butter
3 egg whites
45g caster sugar
200ml double cream
32 Matchmakers salted caramel, halved
60g caramel sauce
12 raspberries
Nutrition
Calories column
Fat column
Saturates column
Sugars column
Salt column

Calories
760

per serving

38%

%GDA

Fat
53g

per serving

76%

%GDA

Saturates
33g

per serving

163%

%GDA

Sugars
60g

per serving

67%

%GDA

Salt
0.30g

per serving

5%

%GDA
Method
Rinse 4 deep ramekins with water, then line them with clingfilm, pressing down with some kitchen roll to make sure the cling film fits all corners, but leaving enough to hang over the edges.

Put the chocolate and butter into a bowl set over a pan of simmering water and heat until melted. Stir well then remove from the heat.

Place the egg whites into a clean bowl and whisk until soft peaks form then add the caster sugar and whisk until glossy and stiff peaks form. Set aside.

Pour the cream into a separate bowl and whisk until soft peaks form.

Whisk all but 4 teaspoons of the cream into the chocolate mixture then beat in half the whisked egg whites.

Fold in the remaining egg whites until combined and no white is visible.

Place a large spoonful of mousse into the lined ramekins to cover the base. Set 16 halves of Matchmakers upright into the mousse, around the inside of the ramekin – you want to create a ring of Matchmakers leaning against the ramekin.

Divide half the mousse between the ramekins, making sure that the Matchmakers stay upright.

Add a spoonful of caramel to each one, then fill with the rest of the mousse. Tap the ramekin on the work surface several times so that the Matchmakers settle at an angle around the outside.

Place into the freezer for 20 minutes, or the fridge for at least 2 hours to set, along with the reserved double cream.

Drizzle half the remaining caramel onto serving plates, then remove the ramekin and carefully peel off the clingfilm around the outside of the Matchmakers.

Set onto the caramel on the serving plates, then divide the remaining whisked cream between the mousses and finish with the raspberries and a drizzle of the remaining caramel sauce.

If leaving in the fridge for more than 2 hours, remove and allow to come to room temperature for 20-30 minutes before serving – they will just soften.