Preparation Time: 5 minutes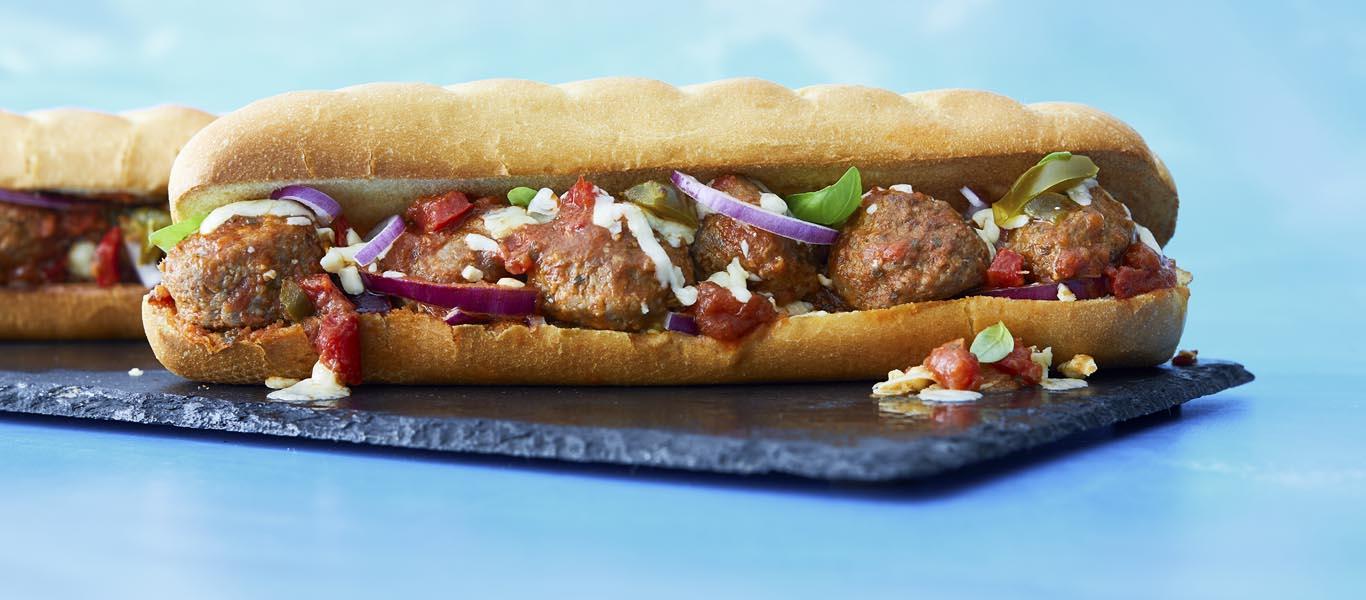 Ingredients
400g beef meatballs

1 x 350g tomato and red pepper pasta sauce

4 large soft baguettes

½ red onion, sliced

80g sliced green jalapeno peppers

100g mature cheddar cheese, grated

1 small handful basil leaves
Nutrition
Calories column
Fat column
Saturates column
Sugars column
Salt column

Calories
703

per serving

35%

%GDA

Fat
35g

per serving

5%

%GDA

Saturates
16g

per serving

76%

%GDA

Sugars
9g

per serving

10%

%GDA

Salt
3.30g

per serving

55%

%GDA
Method
Preheat the grill to high.

Heat a sauté pan until hot, add the meatballs and fry for 3-4 minutes until golden brown all over.

Tip the tomato and red pepper sauce into the pan, stir well and bring to the boil, then reduce the heat and simmer for 10 minutes until the meatballs are cooked through.

Meanwhile, cut the baguettes through the middle, but not quite all the way through - you want to leave the lid on. Scatter half the red onion and jalapenos over the bottom half.

When the meatballs are ready, spoon them onto the baguette, on top of the red onions. Top with the remaining onions and jalapenos followed by the grated cheese then place on a tray under the grill and grill until the bread is just golden brown and the cheese bubbling.

Scatter with the basil and fold the top half of the baguette over and serve straightaway.