Preparation Time: 25 minutes
Cooking Time: 1 hour plus cooling and chilling time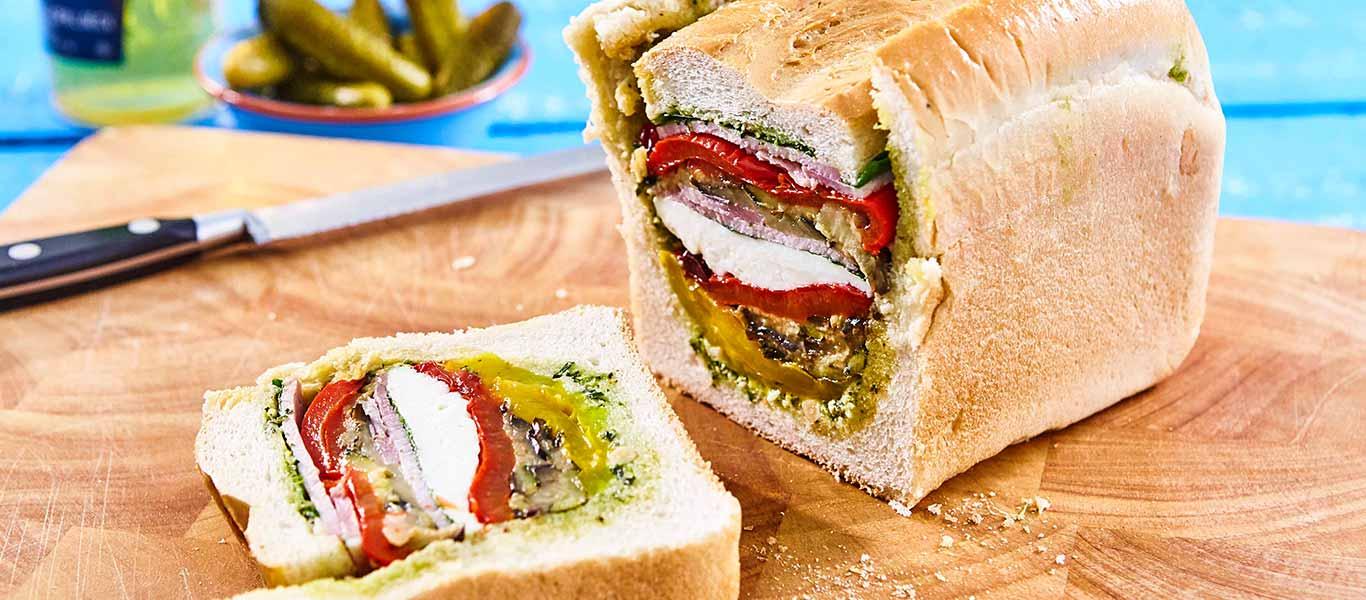 Ingredients
1 yellow pepper, de-seeded and quartered
2 red peppers, de-seeded and quartered
200g courgettes, thinly sliced
100g aubergine, thinly sliced
small bunch thyme sprigs
olive oil, to drizzle
1 x 400g day old unsliced tin loaf of bread
2-3 tbsp ready made pesto
75g mozzarella, sliced into 5 pieces
bunch basil leaves
2 slices ham, about 65g, halved
Method
Preheat the oven to 200°C/Fan180°C/Gas Mark 6. Place the peppers, courgettes, aubergines and thyme in a roasting tin. Drizzle with olive oil and roast for 1 hour. Turn the vegetables half way through the cooking time.

After the cooking time allow the vegetables to cool completely.

Meanwhile, slice the top off the loaf of bread and hollow out the loaf. Brush the insides of the loaf and the inside of the lid with pesto.

Layer up the loaf¸ starting with the yellow pepper, followed by half the courgettes and aubergines, half the red peppers, the mozzarella, basil leaves, half the ham, the remaining courgettes and aubergines, red pepper, ham and finally more basil leaves. Put the lid back on. Wrap tightly in cling film. Put in the fridge with weights on top of the loaf for 4-6 hours. Slice and serve.