Preparation Time: 10 minutes
Cooking Time: 20 minutes plus cooling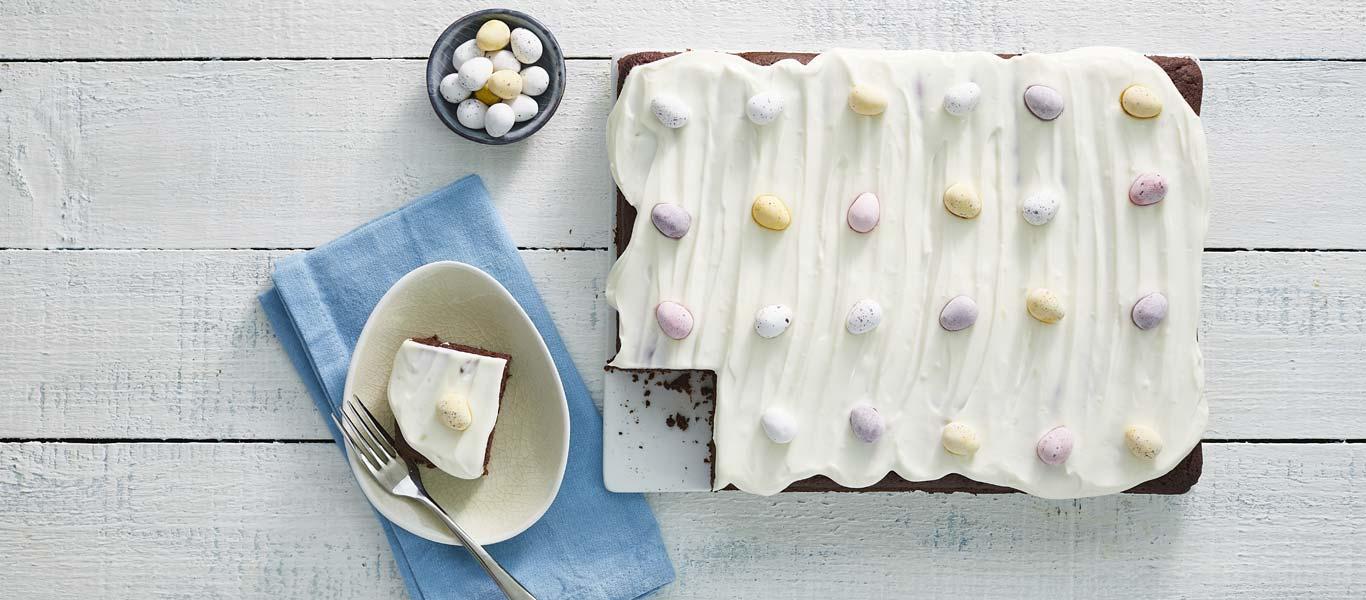 Ingredients
250g cooked beetroot, roughly chopped
250g dark chocolate, roughly chopped
250g butter
4 eggs
250g light soft brown sugar
180g self-raising flour
100g milk chocolate, roughly chopped
300g lightest cream cheese
4 tbsp icing sugar
2 tsp vanilla extract
24 x chocolate mini eggs
Nutrition
Calories column
Fat column
Saturates column
Sugars column
Salt column

Calories
278

per serving

13%

%GDA

Fat
15g

per serving

21%

%GDA

Saturates
9g

per serving

45%

%GDA

Sugars
25g

per serving

28%

%GDA

Salt
0.40g

per serving

7%

%GDA
Method
Preheat the oven to 180°C, fan 160°C, gas mark 4. Grease and line a 23cm x 30cm x 3.5cm tin with parchment paper.

Put the chopped beetroot into a blender and blitz until a smooth puree then set aside.

Put the butter and chocolate into a bowl set over a pan of simmering water and heat until melted. Stir well then set aside to cool slightly.

Crack the eggs into a large bowl, add the sugar then whisk with an electric whisk until really thick and light – they should double in volume at least.

Whisk the melted chocolate and beetroot puree into the eggs then stir in the flour and mix gently until combined.

Fold in the roughly chopped milk chocolate then pour into the lined tin and bake for 20 minutes until just set – the brownie should still have a slight wobble to it.

Remove and allow to cool totally before turning out onto a serving plate.

Tip the cream cheese into a bowl, add the icing sugar and vanilla extract and beat gently until smooth and creamy.

Spread over the top of the brownie then decorate with mini eggs before cutting into rectangles.