Preparation Time: 15 minutes
Cooking Time: 8 minutes, plus cooling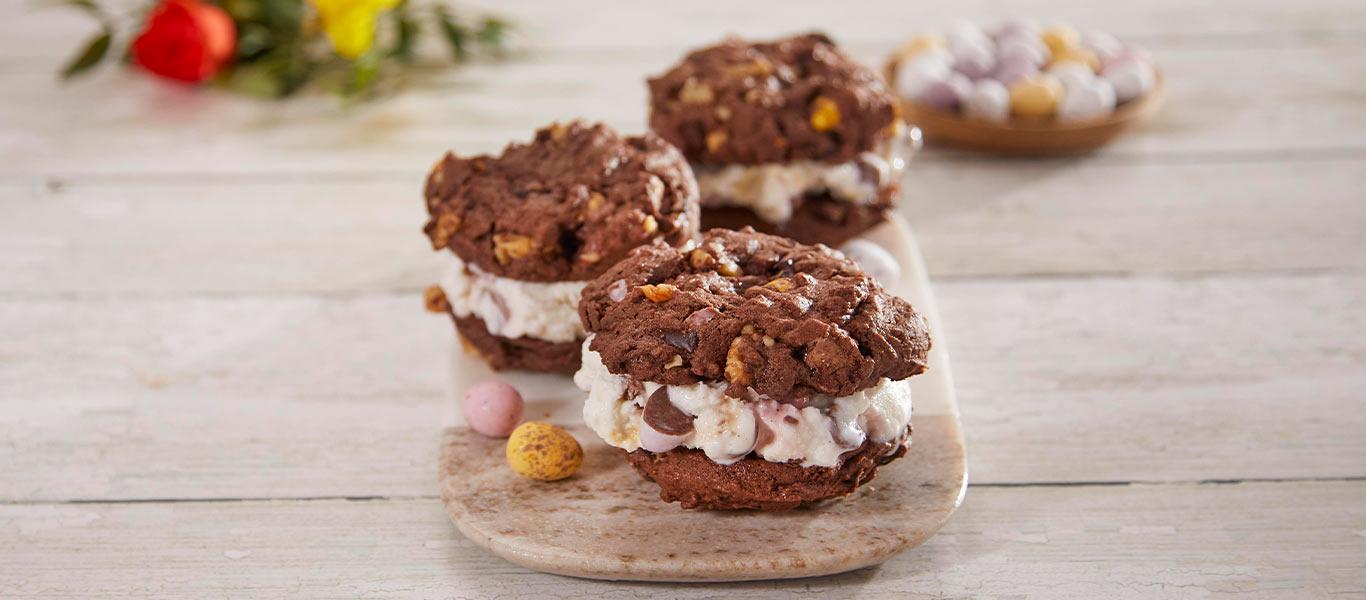 Ingredients
125g butter
150g soft dark brown sugar
2 eggs
275g self-raising flour
25g cocoa powder
10g cornflour
80g dark chocolate chips
230g Cadburys Mini Eggs, very roughly chopped
100g roughly chopped walnuts or dried cranberries
500g vanilla ice cream
Method
Preheat the oven to 210°C, fan 190°C, gas mark 7. Grease and line 2 baking trays.

Tip the butter and sugar into a bowl and beat until light and fluffy. Add the eggs and beat until smooth.

Tip the flour, cocoa and cornflour into the bowl and mix until it forms a soft dough.

Stir in the chocolate chips, 80g Cadbury's Mini Eggs and the walnuts (or cranberries) and mix until combined.

Tip out onto the work surface and divide into 24. Roll each piece into a ball then place onto the baking trays and press down lightly until just flattened.

Place in the oven to bake for 8 minutes until just set.

Remove and allow to cool on the baking tray.

Meanwhile, allow the ice cream to soften slightly then stir in the mini eggs.

Lay half the cookies out onto a tray, top with a generous spoonful of ice cream, then top with the remaining cookies and press down gently, until the ice cream just creeps out over the edge. Smooth round with a knife then serve straightaway.

These can be frozen and kept for 1 month – serve from frozen, or remove and allow soften for 5 minutes before eating.