Preparation Time: 10 minutes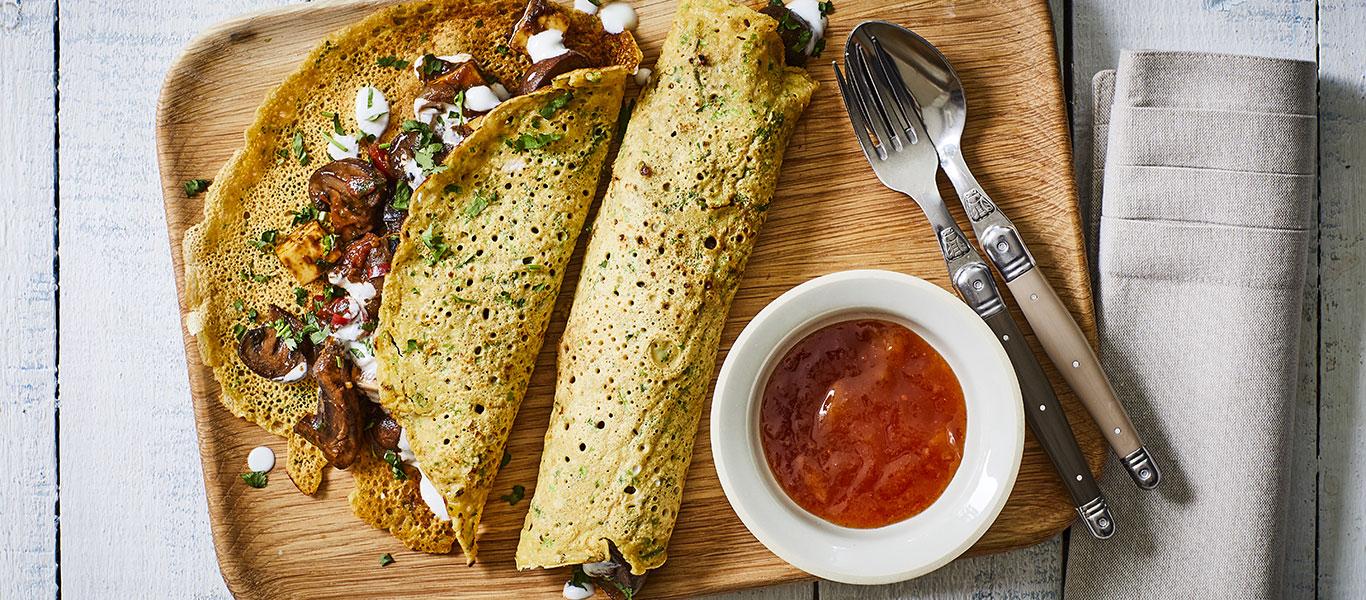 Ingredients
1 tbsp vegetable oil

1 onion, thinly sliced

2 garlic cloves, thinly sliced

5cm piece ginger, peeled and finely chopped

250g chestnut mushrooms, halved

250g flat mushrooms, cut into small wedges

1 x 350g jalfresi sauce

200g paneer, cut into 2cm cubes

100g gram or chickpea flour

½ tsp ground cumin

1 small bunch coriander, roughly chopped, keeping leaves and stalks separate

60g low fat natural yoghurt
Method
Heat a large sauté pan until medium hot, add 1 teaspoon of the oil and onion and cook for 2-3 minutes until softened, then add the garlic and ginger and cook for another minute.

Turn the heat up and add the mushrooms and fry until golden brown, then stir in the sauce and simmer for 5 minutes until tender.

Add the paneer and mix well, then cover and simmer for another 5 minutes until hot through, then stir in half the chopped coriander leaf.

While the sauce simmers, make the dosa. Tip the flour into a bowl along with the cumin seeds and chopped coriander stalks, a pinch of salt and pepper and mix well.

Pour in 225ml cold water and whisk until smooth.

Heat a large frying pan until hot, add a little of the oil and a ladleful of batter and fry for 30-45 seconds until just set and golden brown around the edge. Flip over and fry for another 30 seconds. Repeat with the remaining oil and batter until finished – you should have 4 large dosa (if your frying pan is small you may well have more.)

Lay the dosa onto serving plates and top with the mushroom mixture. Drizzle with the yoghurt then sprinkle the remaining coriander over the top.