Preparation Time: 10 minutes
Cooking Time: 40-45 minutes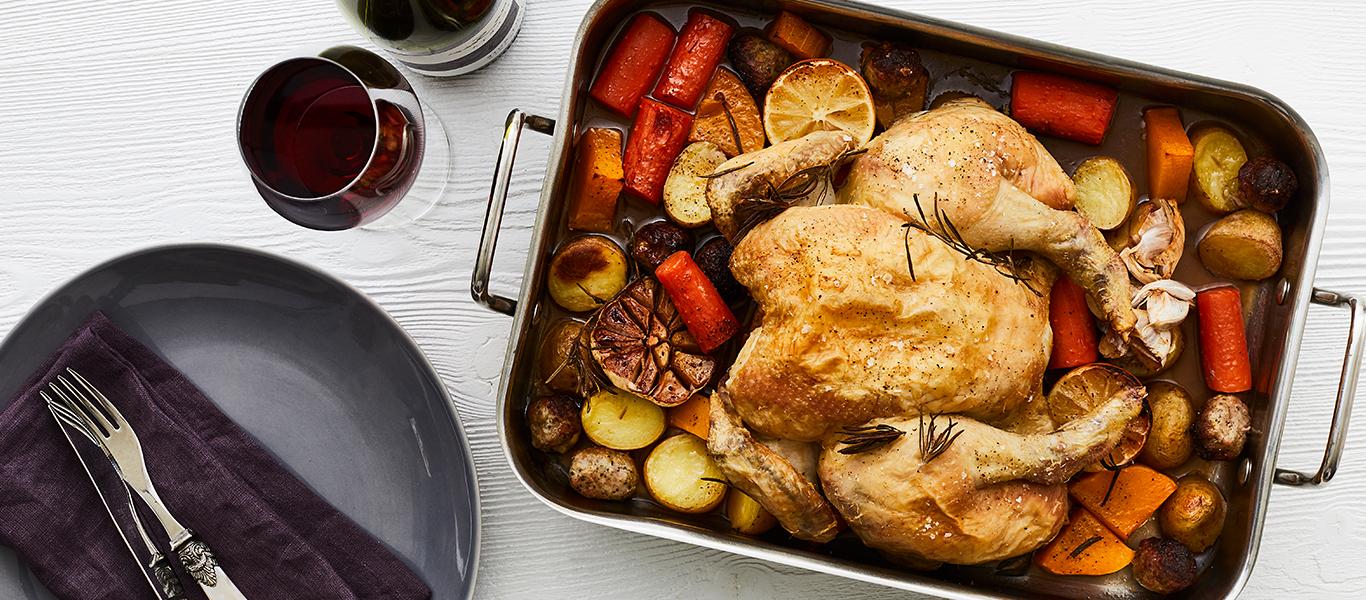 Ingredients
4 large carrots, peeled and cut into big chunks

400g Charlotte potatoes, cut into big chunks if large

400g butternut squash, peeled and cut into big chunks

1 garlic bulb, halved

1 tbsp rapeseed oil

sea salt

freshly ground black pepper

4 pork sausages

1 lemon, halved

6 sprigs rosemary, halved

1.5kg whole chicken, giblets removed

100ml red wine

200ml chicken stock
Nutrition
Calories column
Fat column
Saturates column
Sugars column
Salt column

Calories
681

per serving

34%

%GDA

Fat
24g

per serving

34%

%GDA

Saturates
7g

per serving

35%

%GDA

Sugars
14g

per serving

16%

%GDA

Salt
1.20g

per serving

20%

%GDA
Method
Preheat the oven to 200C/180C fan/gas 6.

Put the carrots, potatoes, squash and halved garlic into a large roasting tin,
then drizzle over half the oil and toss together to coat. Season with the salt
and black pepper.

Remove the skins from the sausages and divide each sausage into 3, then roll into a ball. Place into the tray along with the lemons and half the rosemary.

Place the chicken, breast side down, onto a chopping board. Using sharp heavy duty scissors, cut through the flesh and bone along both sides of the backbone about 5cm/2 " wide. Cut from the tail end to the head end then lift out the backbone.
Place the chicken flesh side down onto the board and press as flat as possible.

Drizzle the remaining oil over the top of the chicken, season with salt and black pepper then place onto the veg. Scatter the remaining rosemary over the top. Roast in the oven for 40-45 minutes.

To check that the chicken is cooked, insert a knife or skewer into the fattest
part of the thigh. If the juices run clear, the chicken is cooked through. If
any blood comes out, return it to the oven for another 5–10 minutes, then check
again.

Serve at the table, cutting the chicken into pieces, then tossing the vegetables and stuffing balls in the juices, before serving alongside. Spoon the juices over the top.