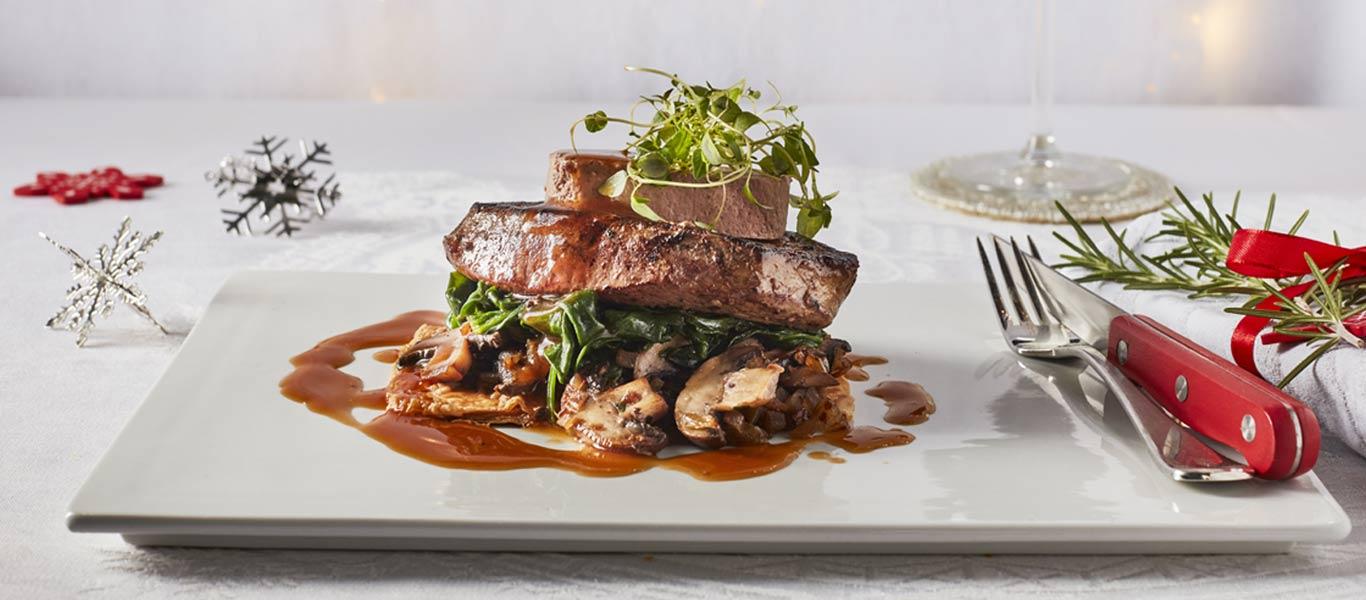 Ingredients
½ x 320g ready rolled puff pastry
1 tbsp vegetable oil
4 x 170g fillet steak
1 onion, finely chopped
320g small mushrooms, thickly sliced
1 tsp chopped thyme leaves, plus 4 sprigs
Sea salt and freshly ground black pepper
320g baby spinach leaves
Nutmeg, to taste
400ml ready made beef gravy
320g green beans
100g farmhouse pate, cut into 4 pieces
Nutrition
Calories column
Fat column
Saturates column
Sugars column
Salt column

Calories
612

per serving

31%

%GDA

Fat
33g

per serving

47%

%GDA

Saturates
14g

per serving

70%

%GDA

Sugars
4g

per serving

4%

%GDA

Salt
2.30g

per serving

39%

%GDA
Method
Preheat the oven to 200°C/fan 180°C/ gas mark 6.

Unroll the pastry and place on it's paper onto a large tray. Cut into 4 equal pieces, then separate slightly. Cover with a sheet of parchment paper and a second tray that fits snugly on top.

Place in the oven to bake for 15-18 minutes until golden brown and crispy.

Season the steaks with salt and black pepper.

Heat a frying pan until hot. Add 1 tsp oil and the steaks and cook on each side for 2-3 minutes until just cooked through. Remove and place onto a plate to rest while you cook the rest.

Add 1 tsp vegetable oil and the onion and cook for 2-3 minutes until softened. Add the chopped mushrooms and thyme and stir fry for 3-4 minutes until golden brown and nearly dry.

Season and set aside in a bowl, then add the spinach to the pan and stir fry until just wilted. Season with a little nutmeg and black pepper.

Heat the beef gravy according to packet instructions, and cook the green beans in a pan of boiling salted water for 3-4 minutes until just tender.

To serve, place a piece of cooked pastry into the centre of each plate. Divide the mushrooms equally between the plates, then top with the spinach, steak, slice of pate, and sprigs of thyme. Serve the green beans alongside, then pour a little drizzle of gravy over the top. Serve the rest in a jug alongside.