Preparation Time: 10 minutes
Cooking Time: 5 hours (or 30-40 minutes in an ice cream machine)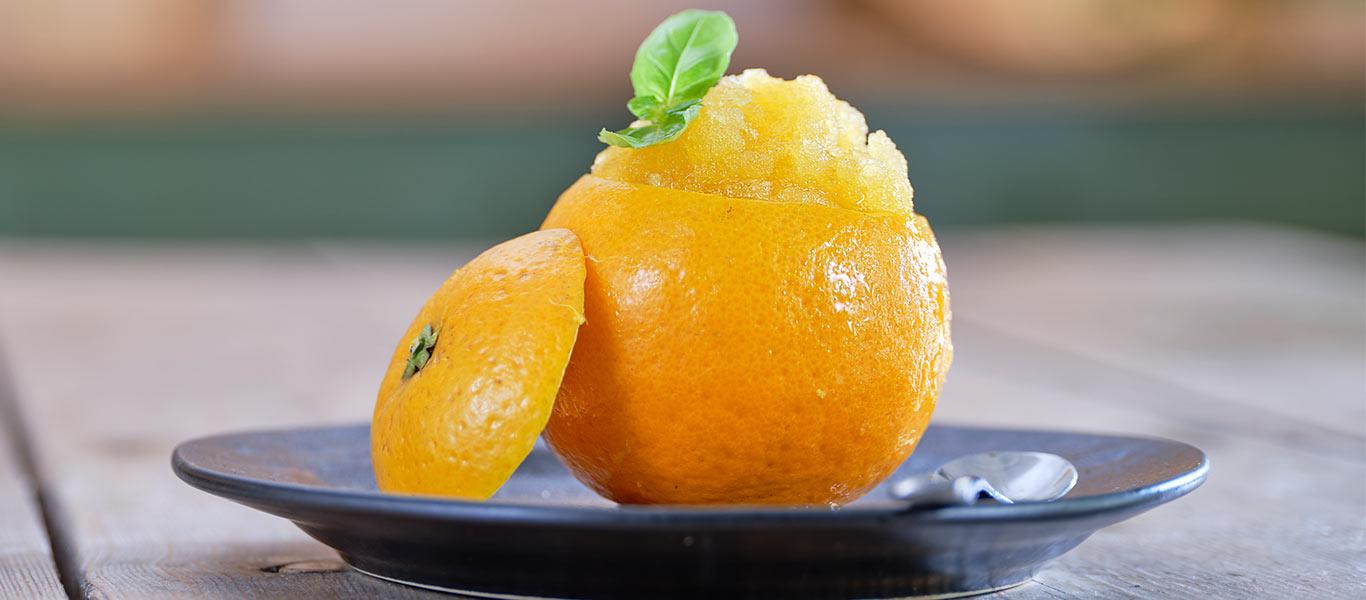 Ingredients
175g caster sugar
1 small handful basil leaves, plus 4 sprigs to garnish
5-6 oranges
Nutrition
Calories column
Fat column
Saturates column
Sugars column
Salt column

Calories
213

per serving

11%

%GDA

Fat
0g

per serving

0%

%GDA

Saturates
0g

per serving

0%

%GDA

Sugars
52g

per serving

58%

%GDA

Salt
0.30g

per serving

-1%

%GDA
Method
Place the sugar into a saucepan and add 275ml water. Set over a medium heat and bring to the boil, stirring occasionally until the liquid is clear.

Add the basil and remove from the heat. Set aside until cool.

Meanwhile, zest 2 oranges and add to the basil syrup.

Cut the top quarter off the remaining oranges and scoop out the flesh, keeping the skin intact. You want to make 4 orange cups. Squeeze the juice out of the flesh through a sieve to about 400ml orange juice. Squeeze the zested oranges to top up the orange juice.

When the basil syrup is cool, add the orange juice and stir well.

Pour into a freezable container and transfer to the freezer for 1 hour. Remove and using a fork, break up all the ice crystals, then return to the freezer.

Repeat this 4-5 times until the mixture is frozen and smooth and the sorbet is formed.

Alternatively, if you have an ice cream maker, pour into the machine and churn until solid.

When frozen, divide between the orange cups and return to the freezer until needed.

To serve, remove from the freezer 15 minutes before serving and garnish with a sprig of basil.