Preparation Time: 20 minutes
Cooking Time: 10 minutes plus 1 Hour rising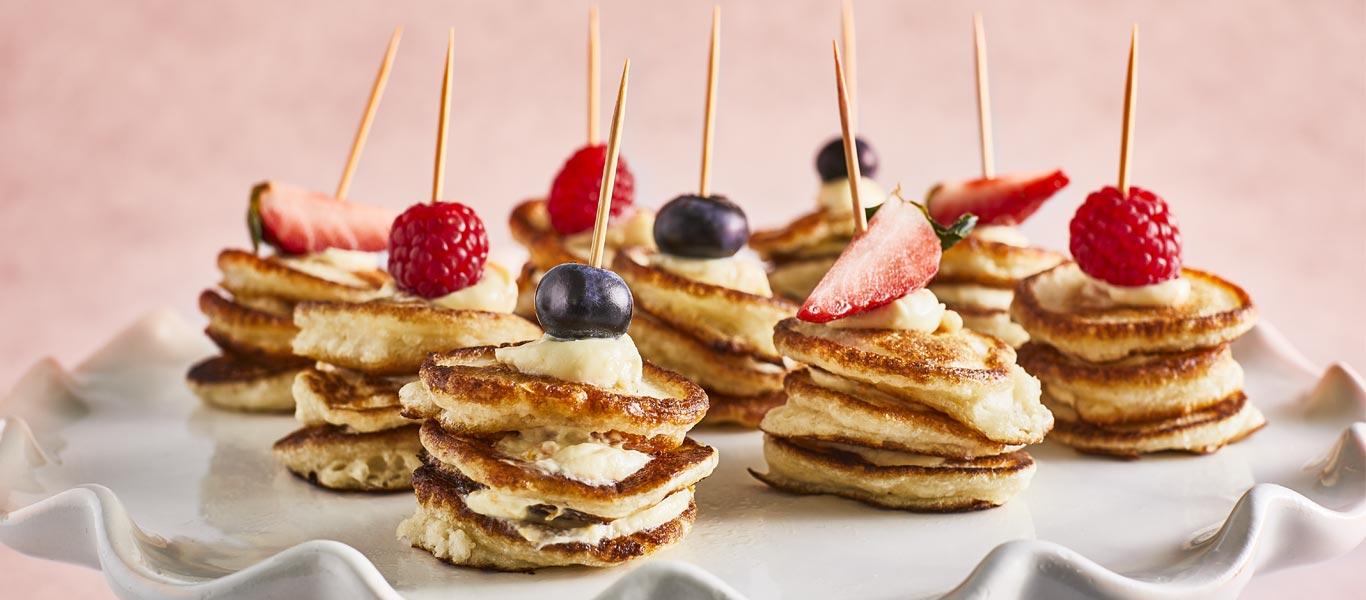 Ingredients
175g self-raising flour
1 tbsp caster sugar
1 pinch sea salt
1 tsp fast action yeast
1 egg
250ml semi skimmed milk
1-2 tsp vegetable oil
75ml double cream
1 tbsp icing sugar
½ orange, zested
80g assorted berries – strawberries, raspberries and blueberries
Nutrition
Calories column
Fat column
Saturates column
Sugars column
Salt column

Calories
58

per serving

2%

%GDA

Fat
3g

per serving

4%

%GDA

Saturates
2g

per serving

8%

%GDA

Sugars
2g

per serving

2%

%GDA

Salt
0.13g

per serving

2%

%GDA
Method
Tip the flour, sugar, salt and yeast into a bowl and mix together. Pour in the egg and milk and whisk until a smooth batter is formed. Cover and set aside for at least 1 hour until the batter has risen and starts to bubble slightly.

Heat a frying pan until medium hot. Whisk the batter once more then add a little oil to the pan and swirl around. Add small spoonfuls of the batter to the pan. Cook for 30 seconds until bubbles just form on the surface and then flip over and cook for another few seconds.

Remove and set aside to cool while you cook the remaining batter.

Pour the cream into a bowl and whisk until soft peaks for then whisk in the icing sugar and orange zest and whisk until just firm.

Lay 8 blini onto a plate, top with a tiny blob of cream, then top with another 8 blini, more cream then another 8 blini.

Place a berry on top then secure with a cocktail stick and place onto a serving plate.