Serves : 4 (Makes 12 Pancakes)
Preparation Time: 5 minutes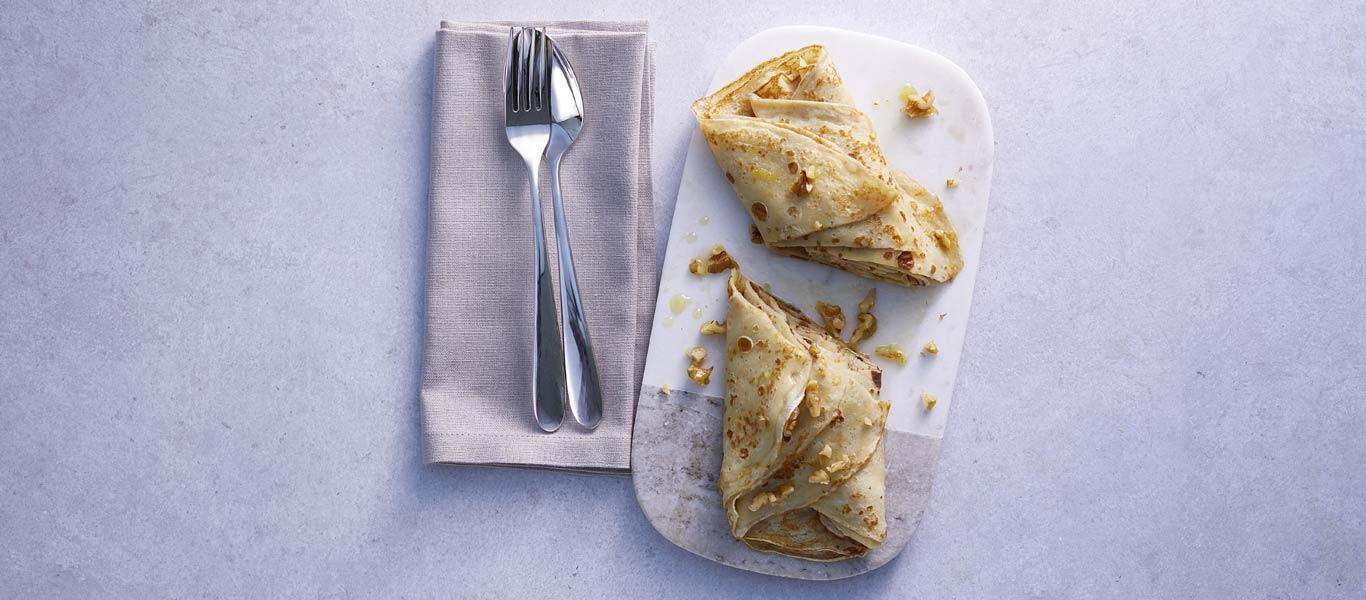 Ingredients
200g plain flour
2 eggs
450ml semi skimmed milk
4 tbsp runny honey
1 large (or 2 medium) orange, zested and juiced
1 tbsp vegetable oil
90g walnuts, roughly chopped
Nutrition
Calories column
Fat column
Saturates column
Sugars column
Salt column

Calories
506

per serving

25%

%GDA

Fat
21g

per serving

30%

%GDA

Saturates
4g

per serving

18%

%GDA

Sugars
24g

per serving

27%

%GDA

Salt
0.16g

per serving

3%

%GDA
Method
Tip the flour into a bowl then zest the orange over the top, stir well and make a well in the centre.

Crack the eggs into the well, add 1 tbsp honey and then pour in the milk. Whisk together, starting in the centre and working out until you have a smooth thin batter.

Pour the honey and orange juice into a small pan and heat while you cook the pancakes – you want it to just thicken slightly.

Heat a medium frying pan until medium hot. Add a little oil, swirl around then tip out into a heatproof bowl. Add a ladle of batter and swirl around so that all the base is coated in batter.

Cook for 1-2 minutes until just set, then ease up the sides and flip over. Cook on the other side for 30 seconds until just golden brown.

Remove and place onto a plate to keep warm. Repeat with the remaining oil and batter until you have a stack of pancakes.

Lay a pancake on each of 4 plates, drizzle with a little warm honey and some chopped walnuts, then top with another pancake and repeat the honey and walnuts until all the pancakes are used.

Roll up loosely into a pinwheel and serve straightaway with a last drizzle of honey and walnuts.