Preparation Time: 10 minutes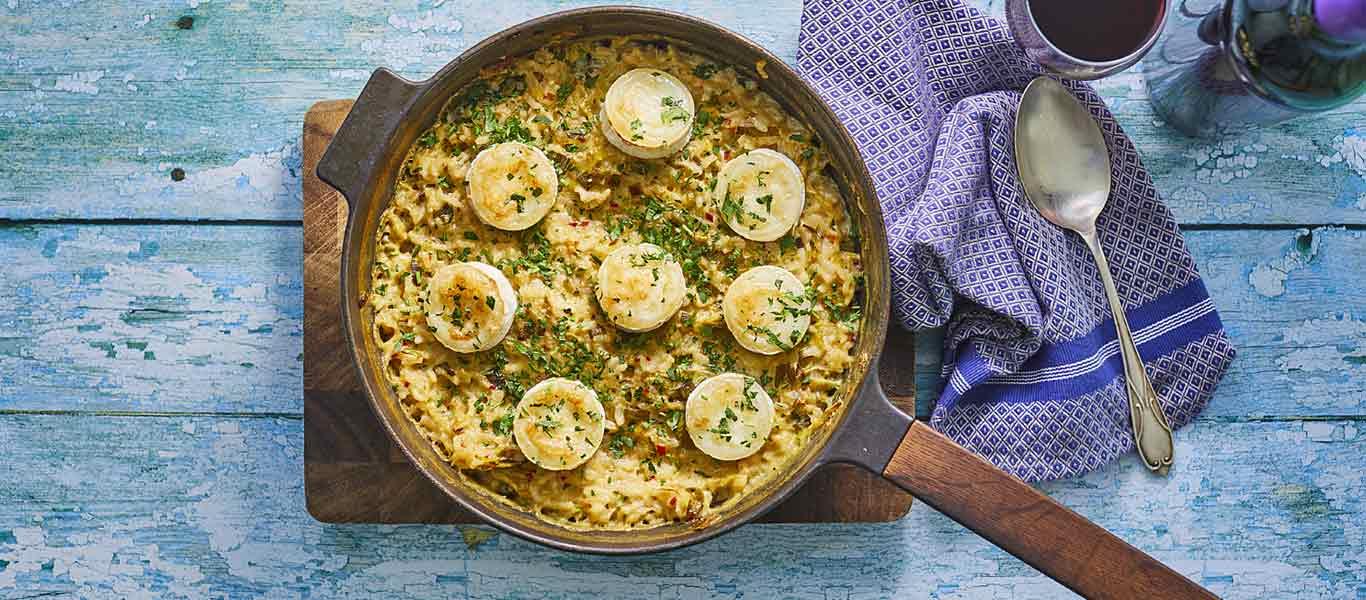 Ingredients
1 tsp olive oil
1 onion, roughly chopped
2 leeks, roughly chopped
2 red chillies, seeded and finely chopped
300g risotto rice
150ml white wine
100g soft goat's cheese
2 x vegetable stock pots/cubes
Freshly ground black pepper
150g firm rinded goat's cheese
1 tbsp flat leaf parsley, roughly chopped
Nutrition
Calories column
Fat column
Saturates column
Sugars column
Salt column

Calories
374

per serving

18%

%GDA

Fat
13g

per serving

19%

%GDA

Saturates
8g

per serving

40%

%GDA

Sugars
4g

per serving

4%

%GDA

Salt
2.30g

per serving

38%

%GDA
Method
Heat the oven to 200°C, fan 180°C, gas 6 and set a kettle to boil

Heat a medium ovenproof sauté or deep sided frying pan until medium hot. Add the oil, onions, leeks and chillies and fry for 10 minutes until softened.

Add the rice and soft goat's cheese and stir well until coated in the vegetables.

Add the white wine and cook until reduced by half. Measure 900ml boiling water into a jug. Add the stock cubes to the pan and stir really well then add the boiling water and stir until the stock cubes are dissolved.

Cover with foil or a lid and place in the oven for 15 minutes, then remove and stir well.

Heat the grill to high, then top with the sliced goat's cheese and place under the grill for 5 minutes until golden and bubbling.

Serve at the table in the pan, with the parsley scattered over the top.