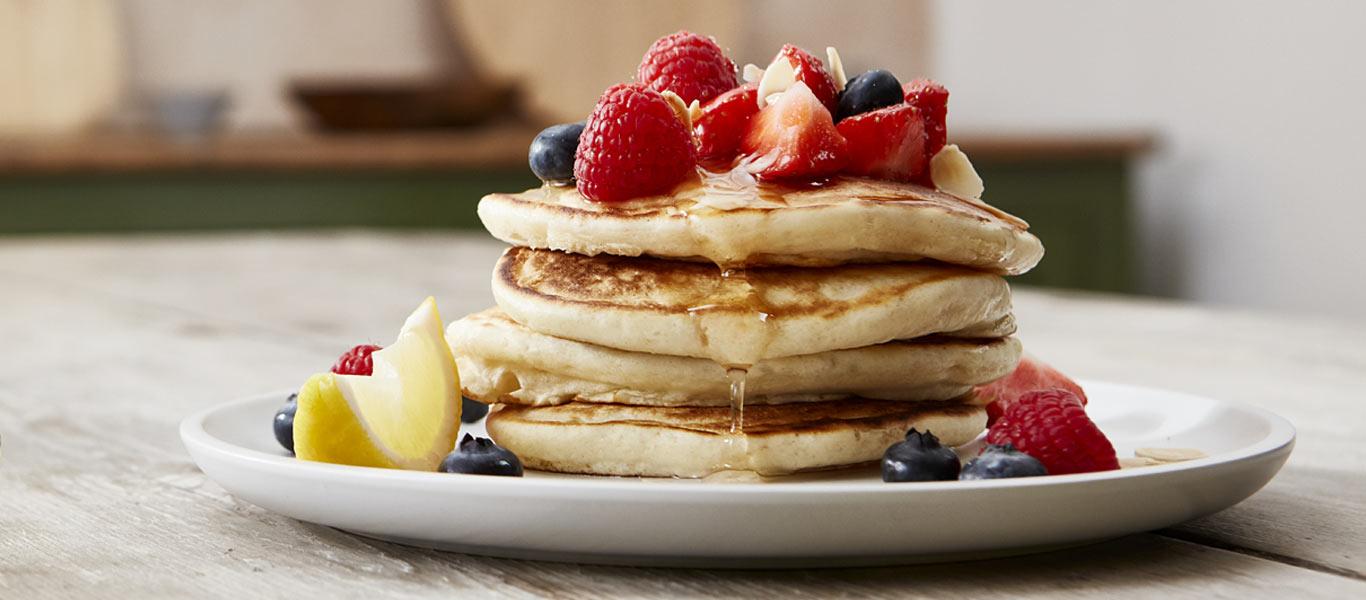 Ingredients
150g plain flour
1 tsp baking powder
2 tbsp caster sugar
1 egg
200ml semi skimmed milk
Vegetable oil spray
160g mixed berries – strawberries, raspberries, blueberries, etc
2 tbsp honey
Nutrition
Calories column
Fat column
Saturates column
Sugars column
Salt column

Calories
516

per serving

26%

%GDA

Fat
6g

per serving

9%

%GDA

Saturates
3g

per serving

13%

%GDA

Sugars
38g

per serving

42%

%GDA

Salt
0.80g

per serving

13%

%GDA
Method
Tip the flour into a bowl, add the baking powder and caster sugar and mix together.

Make a well in the centre of bowl and crack the egg into it, then pour the milk on top. Whisk together, starting in the centre, and gradually working out until you have a thick smooth batter.

Heat a non stick frying pan until medium hot. Spray the vegetable oil then pour 2-3 small ladlefuls of batter into the pan. Fry over a medium heat for 1-2 minutes until bubbles start to form on the top of the batter.

Flip over and cook for another 1-2 minutes until just set – they will spring back if you touch them gently.

Lift out onto a serving plate, and repeat with the remaining batter.

Stack the pancakes in a pile, then scatter the berries over the top and finish with a drizzle of honey.