Preparation Time: 30 minutes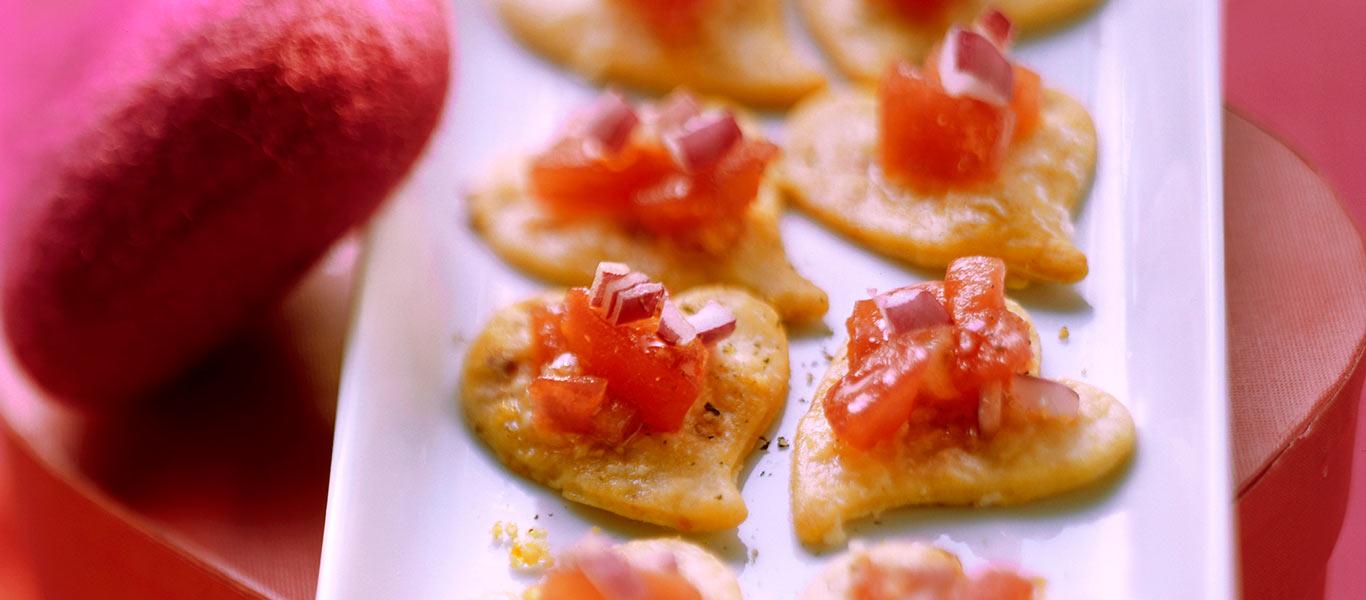 Ingredients
For the biscuits
110g plain flour, plus extra for dusting
½ tsp Salt
½ tsp Cayenne pepper
70g Cold butter
90g Grated parmesan cheese
4 tbsp Cream, 38% fat
For the salsa
800g Tomatoes
1 Red onion, finely chopped
2 Cloves garlic, finely chopped
2 tbsp Olive oil
1 tbsp Balsamic vinegar
Salt and freshly ground pepper
Method
For the biscuits work the flour, salt, cayenne pepper, butter, parmesan and cream to a smooth, firm dough. Wrap in cling film and chill in the fridge for 30 minutes.

Heat the oven to 180°C, 160°C fan, gas 4. Line a baking tray with non-stick baking paper.

For the salsa drop the tomatoes into boiling water for a few seconds, refresh in cold water, then skin, quarter, deseed and finely dice.

Mix together the onion, garlic, olive oil, balsamic vinegar and diced tomatoes and season with salt and pepper.

Roll the dough out thinly on a floured surface and cut out about 40 hearts using a heart-shaped biscuit cutter (about 6cm).

Place on the baking tray and bake for 10 minutes or until golden brown. Place on a wire rack to cool completely.

Before serving drain the tomato salsa thoroughly in a sieve, then spoon small heaps of salsa onto the parmesan hearts.