Preparation Time: 10 minutes
Cooking Time: 30-45 minutes plus cooling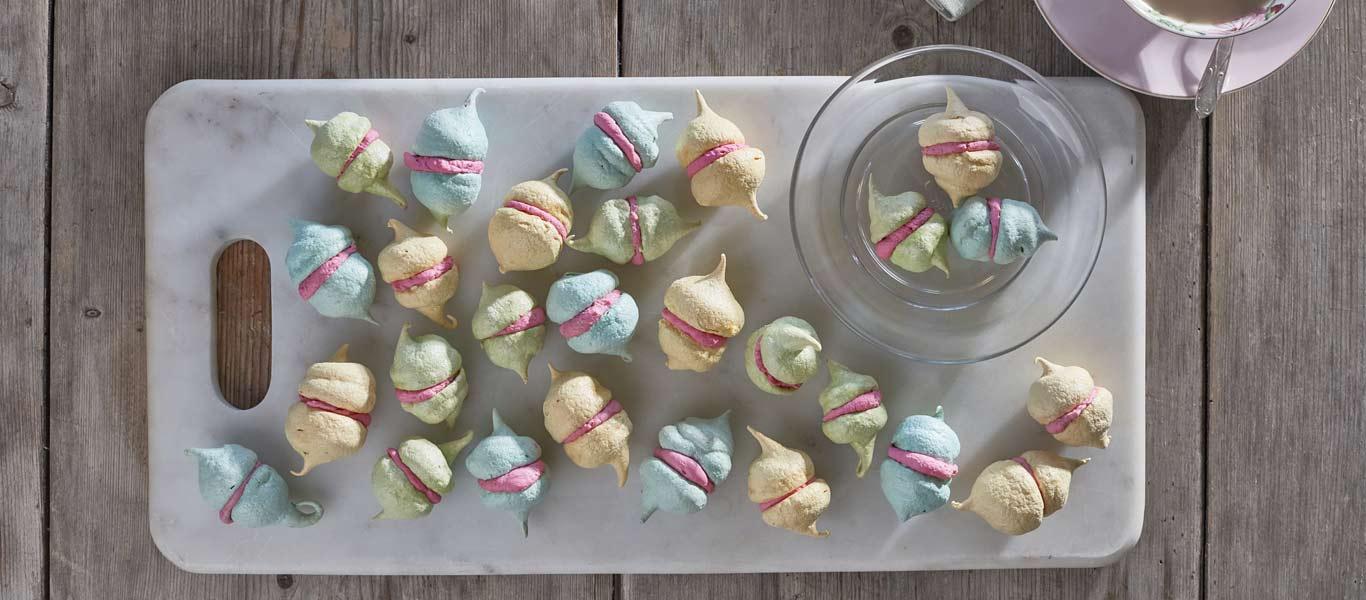 Ingredients
2 egg whites
100g caster sugar
Green food colour gel
Yellow food colour gel
Blue food colour gel
100ml double cream
1 tsp vanilla extract
1 tbsp icing sugar
Pink food colour gel
Nutrition
Calories column
Fat column
Saturates column
Sugars column
Salt column

Calories
41

per serving

2%

%GDA

Fat
2g

per serving

3%

%GDA

Saturates
1g

per serving

5%

%GDA

Sugars
5g

per serving

6%

%GDA

Salt
0.02g

per serving

1%

%GDA
Method
Preheat the oven to 130C/fan 110C/ gas mark ½. Line 3 baking trays with parchment paper.

Tip the egg whites into a clean bowl, and whisk until soft peaks form then add the sugar a spoonful at a time until firm glossy peaks are formed.

Take a third of the mixture out and place into a small bowl. Take a second third out and place in a separate bowl. Add a little green gel to one, yellow to the second and then blue to the third bowl and whisk each one until evenly coloured.

Pipe 36 small "kisses" onto the parchment paper, taking care to lift the piping bag up at the end of each kiss so that you have a little peak.

Transfer to the oven to bake for about 30 minutes until just set but not coloured. Check if the meringue is firm, if not, leave for another 5 minutes and repeat – you don't want them to colour. Remove and allow to cool totally.

Meanwhile, pour the cream into a bowl and add the vanilla extract, icing sugar and a touch of pink gel. Whisk until just firm then decant into a clean piping bag.

When the meringues are cool, sandwich together with a little pink cream and serve straightaway.

You can make the meringues up to 3 days in advance and keep in an airtight container. Fill when needed and leave for up to 1-2 hours if you like a squidgier meringue.