Preparation Time: 5 minutes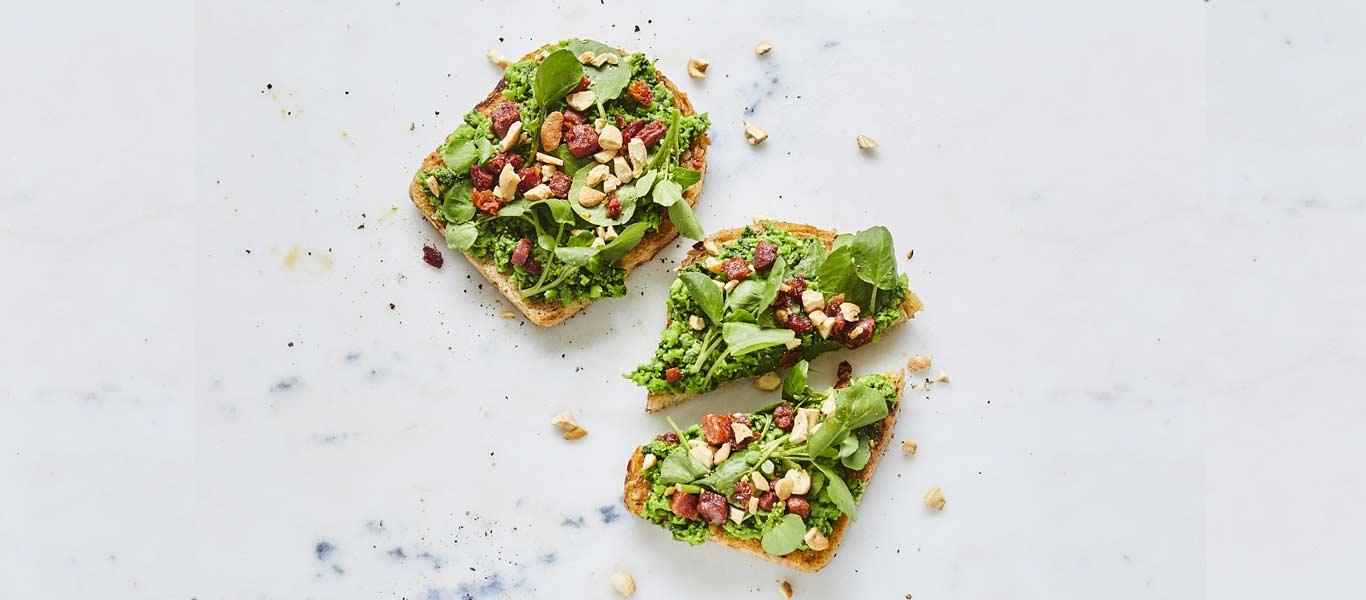 Ingredients
2 slices seeded sourdough bread
80g petit pois or peas
5g mint leaves
25g watercress
1 tsp extra virgin olive oil
Sea salt and freshly ground black pepper
20g chorizo, finely chopped
10g roasted cashews, roughly chopped
Freshly ground black pepper
Nutrition
Calories column
Fat column
Saturates column
Sugars column
Salt column

Calories
241

per serving

12%

%GDA

Fat
11g

per serving

16%

%GDA

Saturates
3g

per serving

13%

%GDA

Sugars
3g

per serving

3%

%GDA

Salt
1.20g

per serving

20%

%GDA
Method
Bring a pan of salted water to the boil, add the peas, mint and all but a very small handful of the watercress.

Return to the boil then drain and place into a food processor with the extra virgin olive oil and plenty of salt and black pepper.

Blitz to a nearly smooth puree and set aside- you want a little texture left.

Heat a frying pan until hot, add the chorizo and cook for 2-3 minutes until crispy and the oil has been released. Carefully lift out the crispy chorizo, leaving the oil behind.

Add the bread and fry in the chorizo oil, on each side until just golden.

Remove and place onto a serving plate. Top with the pea puree, remaining watercress and crispy chorizo. Finish with a scattering of the roasted cashews and black pepper and serve straight away.