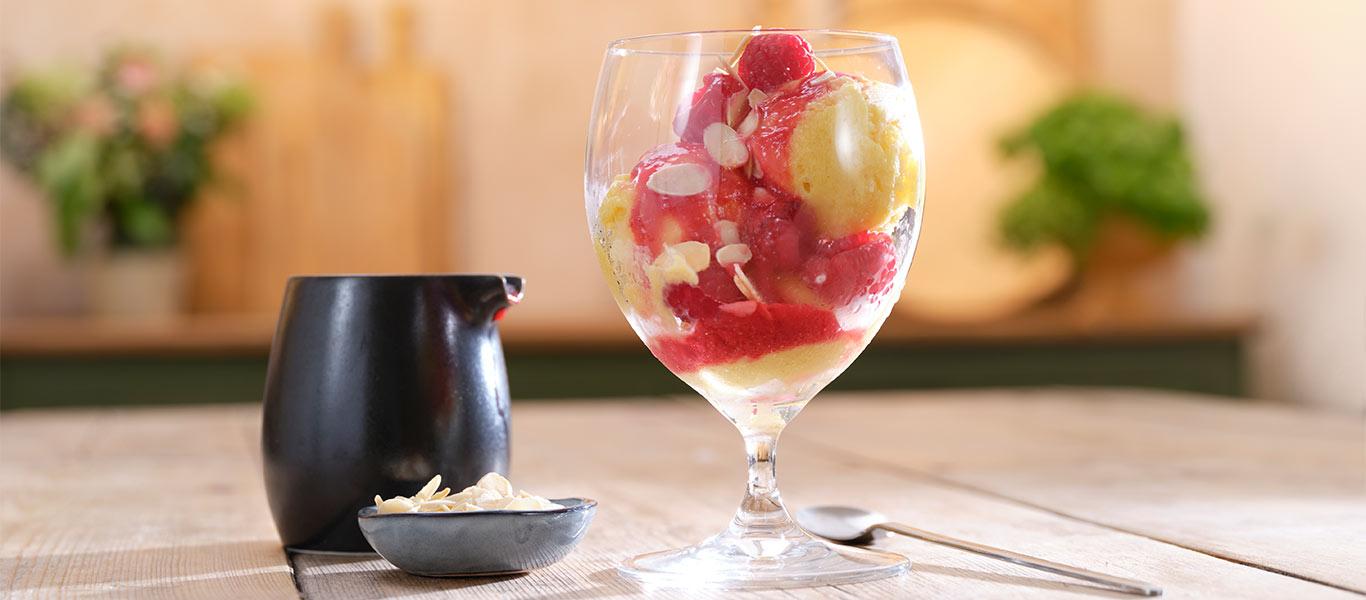 Ingredients
2 x 400g tinned peaches in syrup
200ml coconut milk
1 lime, juiced
300g raspberries
2 tbsp icing sugar
1 tbsp flaked almonds
Nutrition
Calories column
Fat column
Saturates column
Sugars column
Salt column

Calories
287

per serving

14%

%GDA

Fat
11g

per serving

16%

%GDA

Saturates
8g

per serving

40%

%GDA

Sugars
40g

per serving

44%

%GDA

Salt
0.00g

per serving

0%

%GDA
Method
Tip the peaches into a sieve over a bowl to catch the syrup, then tip the peaches into a food blender or jug.

Add 100ml of the peach syrup and the coconut milk and blitz until totally smooth.

Pour into a freezable container and transfer to the freezer for 1 hour. Remove and using a fork, break up all the ice crystals, then return to the freezer.

Repeat this 4-5 times until the mixture is frozen and smooth and the ice cream is formed.

Alternatively, if you have an ice cream maker, pour into the machine and churn until solid.

Meanwhile, tip 2/3 of the raspberries into a food blender or jug, add the icing sugar and blitz until smooth. Pass through a sieve to remove the pips.

Place scoops of ice cream into a bowl or glass, top with some raspberry sauce, raspberries and flaked almonds, and serve straight away.