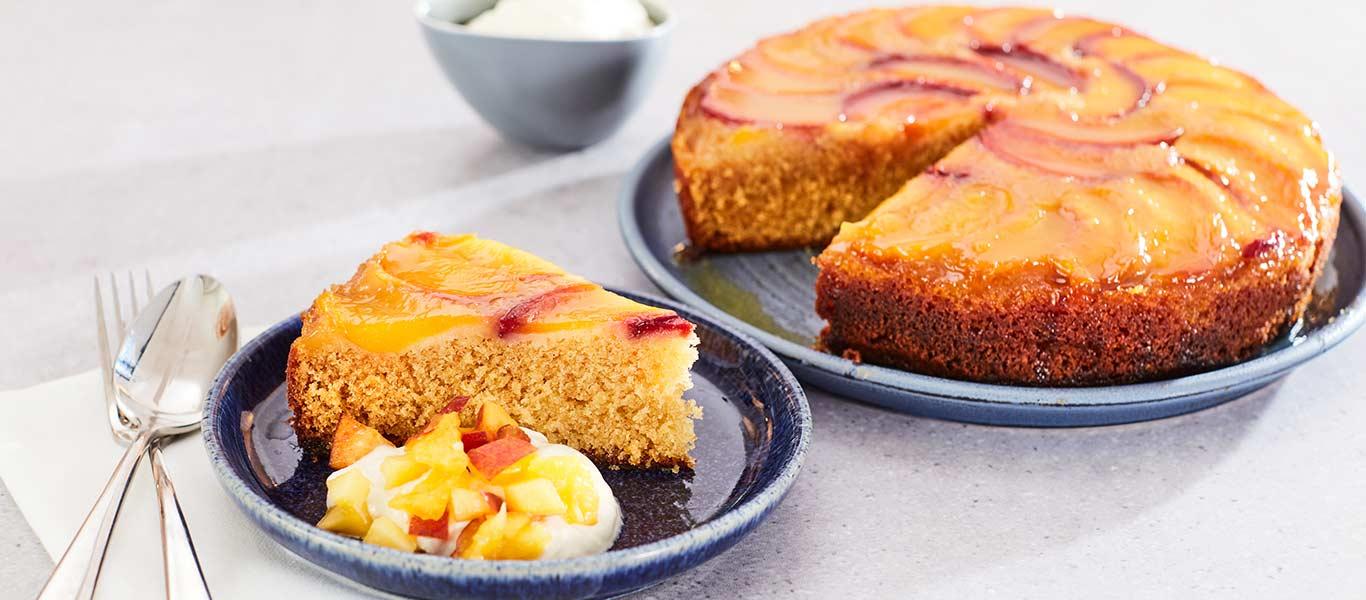 Ingredients
275g golden syrup
6 fresh peaches, stoned and cut into wedges
225g softened butter
225g light soft brown sugar
4 eggs
225g self-raising flour
200g half fat crème fraiche, to serve
Nutrition
Calories column
Fat column
Saturates column
Sugars column
Salt column

Calories
432

per serving

22%

%GDA

Fat
20g

per serving

29%

%GDA

Saturates
12g

per serving

60%

%GDA

Sugars
42g

per serving

47%

%GDA

Salt
0.80g

per serving

13%

%GDA
Method
Preheat the oven to 180°C, fan 160°C, gas mark 4. Grease and line a 23cm deep sided cake tin – preferably not loose bottomed!

Pour 150g golden syrup into the cake tin and spoon/roll around so that it covers the base of the tin.

Lay the peach wedges in an overlapping circular pattern over the top, then set aside. Roughly chop the remaining peaches.

Tip the butter, sugar, eggs and flour and 75g golden syrup into a bowl and beat with an electric whisk for 3-4 minutes until it forms a thick batter.

Spoon into the cake tin, making sure not to disturb the peach wedges.

Place in the oven for 45 minutes until golden and risen. To check the cake is cooked, place a skewer into the centre of the cake – it should come out clean. If not, return to the oven for another 5 minutes and check again. Set aside to cool for 10 minutes.

Warm the remaining golden syrup until just runny.

Place a large plate over the top of the cake tin then carefully, turn the whole thing over, allowing the cake to slide onto the plate. Peel off the parchment paper and pour the warmed golden syrup over the top. Serve warm with the crème fraiche and remaining chopped peaches.