Desserts Peanut Butter and Chocolate Ice Box Cake
---
Preparation Time: 20 minutes
Cooking Time: 4 hours - overnight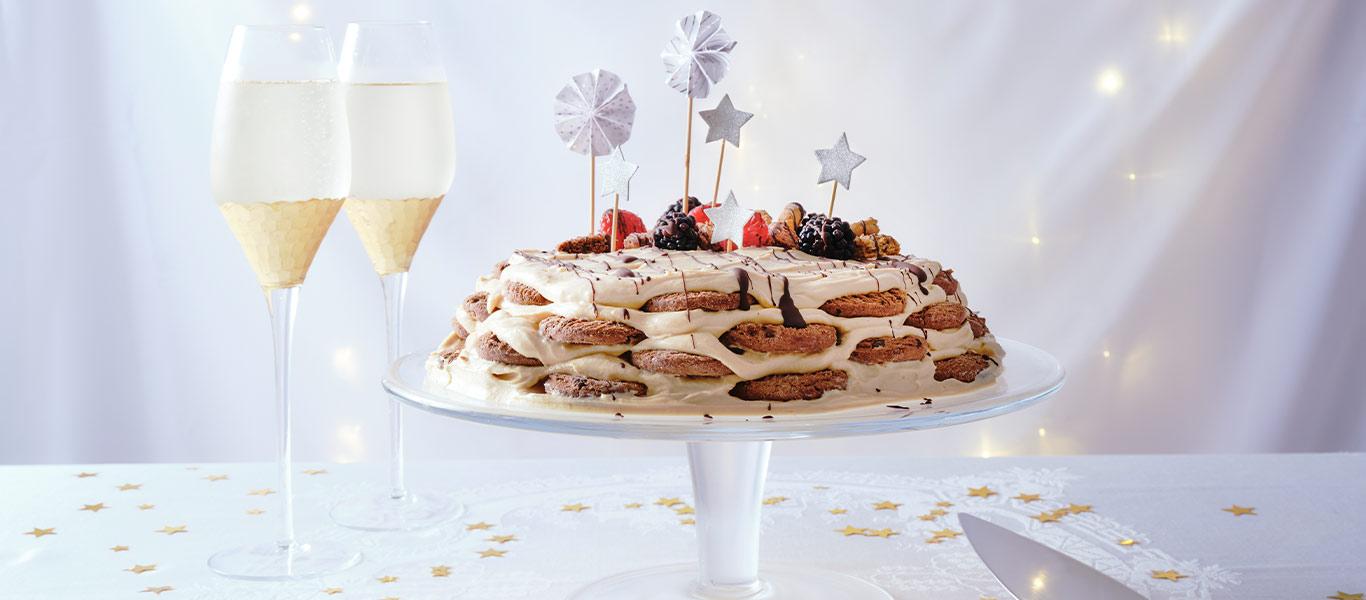 Ingredients
200g cream cheese
200g smooth peanut butter
600ml double cream
150g icing sugar
1 tbsp vanilla extract
2 x 230g double chocolate Maryland cookies (you'll need about 48 biscuits)
5g dark chocolate, roughly chopped
40g raspberries/blackberries
Cake toppers, to serve
Nutrition
Calories column
Fat column
Saturates column
Sugars column
Salt column

Calories
617

per serving

31%

%GDA

Fat
47g

per serving

67%

%GDA

Saturates
25g

per serving

125%

%GDA

Sugars
30g

per serving

33%

%GDA

Salt
0.60g

per serving

10%

%GDA
Method
Tip the cream cheese, peanut butter and vanilla into bowl and beat with an electric whisk until smooth.

Pour half the double cream and whisk until combined, then add the icing sugar and whisk once more.

Add the rest of the cream and whisk until really firm peaks form – you want the mixture to just be soft enough to fall off the spoon but hold its shape otherwise the cream will collapse under the weight of the biscuits when you assemble the cake.

Take a cake stand or large plate and spoon a fifth of the cream over the top and spread out to make a disc of about 20cm diameter.

Place 3 biscuits in the centre of the cream in a triangle, then lay 8 biscuits around the outside, just sticking out over the cream. This should fill the cream disc.

Add another fifth of the cream and spread over the biscuits, but not fully to the edge – you want a little biscuit to be visible.

Repeat with the layers of biscuits placing them in a brick style so they aren't directly over the biscuit below, and cream until you finish on a layer of cream.

Place in the fridge for at least 4 hours, preferably overnight or even for 24 hours so that the biscuits soften.

Decorate with the last of the biscuits crumbled over the top.

Tip the chocolate into a heatproof bowl and microwave on high for 1 minute until just melted. Stir until smooth then drizzle over the top of the cake and decorate with the raspberries and cake toppers and serve.

This will keep in the fridge for up to 3 days and the biscuits will soften as it sits there.