Preparation Time: 20 minutes
Cooking Time: N/A. Chilling time – 4 hours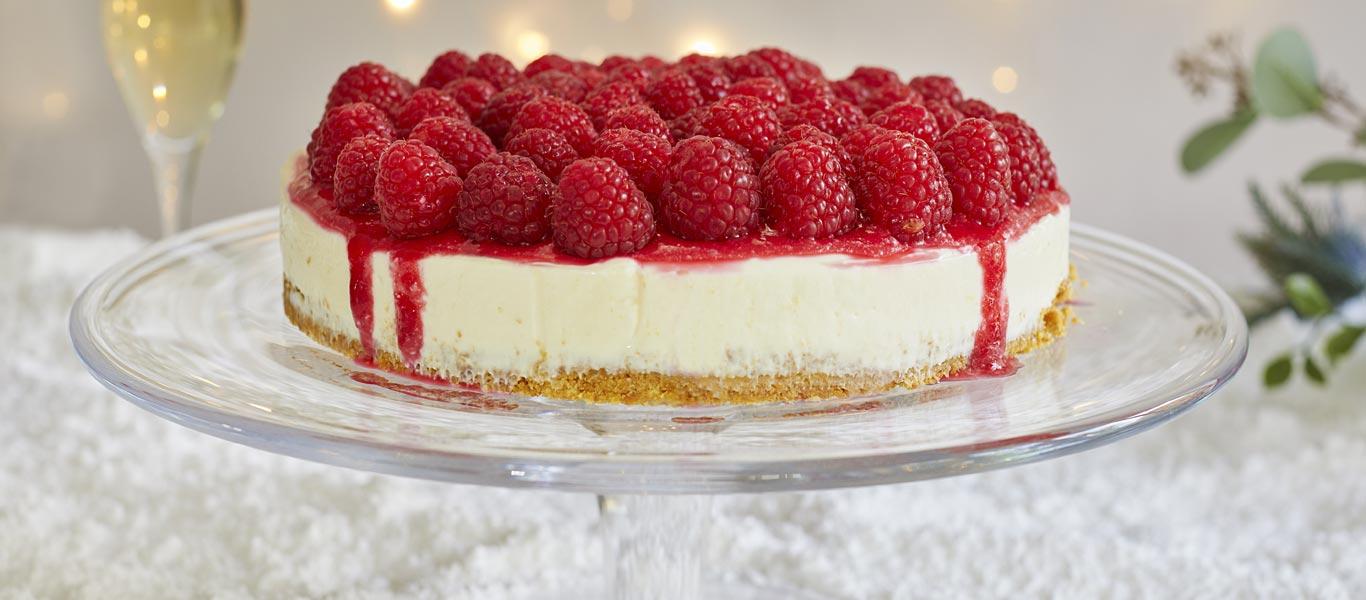 Ingredients
150g digestive biscuits
50g butter
280g of Philadelphia original
397g can condensed milk
120ml double cream
Juice of 3 lemons and the zest of 1 lemon
450g raspberries
Nutrition
Calories column
Fat column
Saturates column
Sugars column
Salt column

Calories
372

per serving

18%

%GDA

Fat
23g

per serving

33%

%GDA

Saturates
14g

per serving

70%

%GDA

Sugars
27g

per serving

30%

%GDA

Salt
0.60g

per serving

10%

%GDA
Method
Lightly grease a 20cm loose bottomed cake tin with a little oil.

Tip the digestive biscuits into a bag and bash with a rolling pin or something heavy, until fine crumbs form.

Heat the butter until just melted (in a saucepan or microwave) then tip into the bag of biscuit crumbs and squidge around until the crumbs are fully coated in butter.

Tip into the cake tin and press down well until evenly spread across the base then place in the fridge while you prepare the topping.

Spoon the cream cheese into a large bowl, add the condensed milk, cream and lemon zest and mix really well until smooth.

Stir in the lemon juice and whisk again until the mixture starts to thicken. Pour over the top of the chilled base and smooth the top.

Place in the fridge for at least 4 hours, if not overnight until set.

Remove from the tin and transfer to a serving plate.

Place 1/3 of the raspberries into a sieve set over a bowl, then press the raspberries through the sieve to form a thick sauce.

Drizzle the raspberry sauce over the top of the cheesecake then decorate with the raspberries, in concentric circles until the cake is totally covered. Serve straightaway or return to the fridge until needed.